Around 70 more Joe Rogan episodes have disappeared from Spotify
Around 70 episodes of the Joe Rogan Experience have today disappeared, according to JREMissing, a tool that uses the Spotify API to detect episode deletions.
Reclaim The Net has confirmed that the episodes have indeed been deleted at the time of writing.
The missing episodes include interviews with Gad Saad, Michael Malice, Theo Von, Aubrey Marcus, Russell Peters, Tim Ferriss, and more.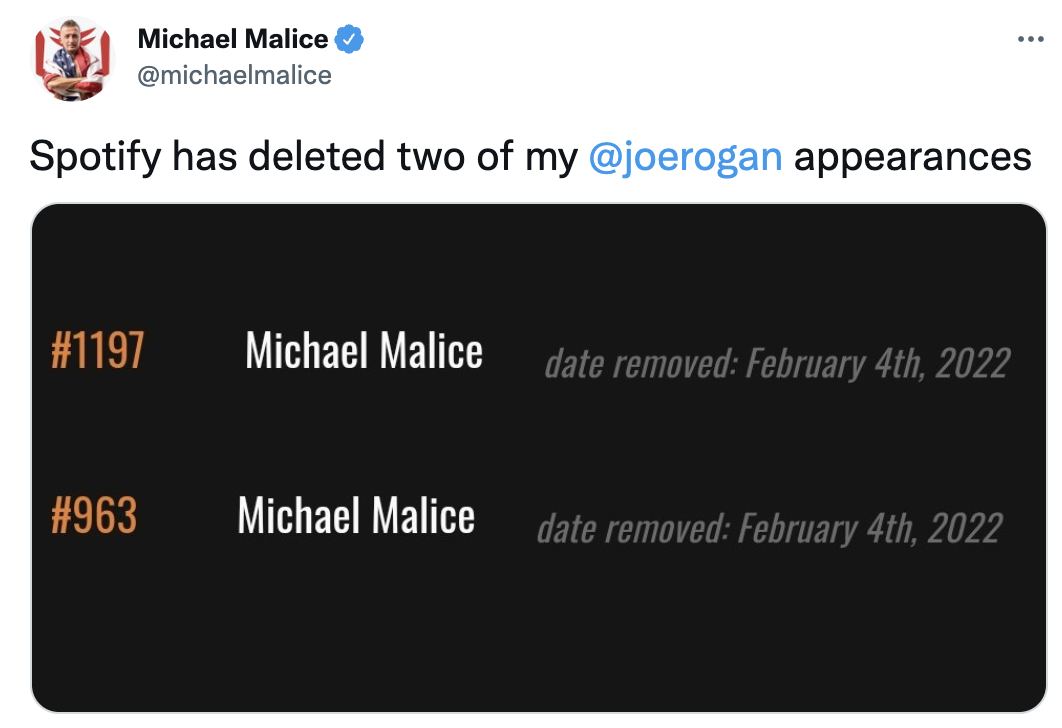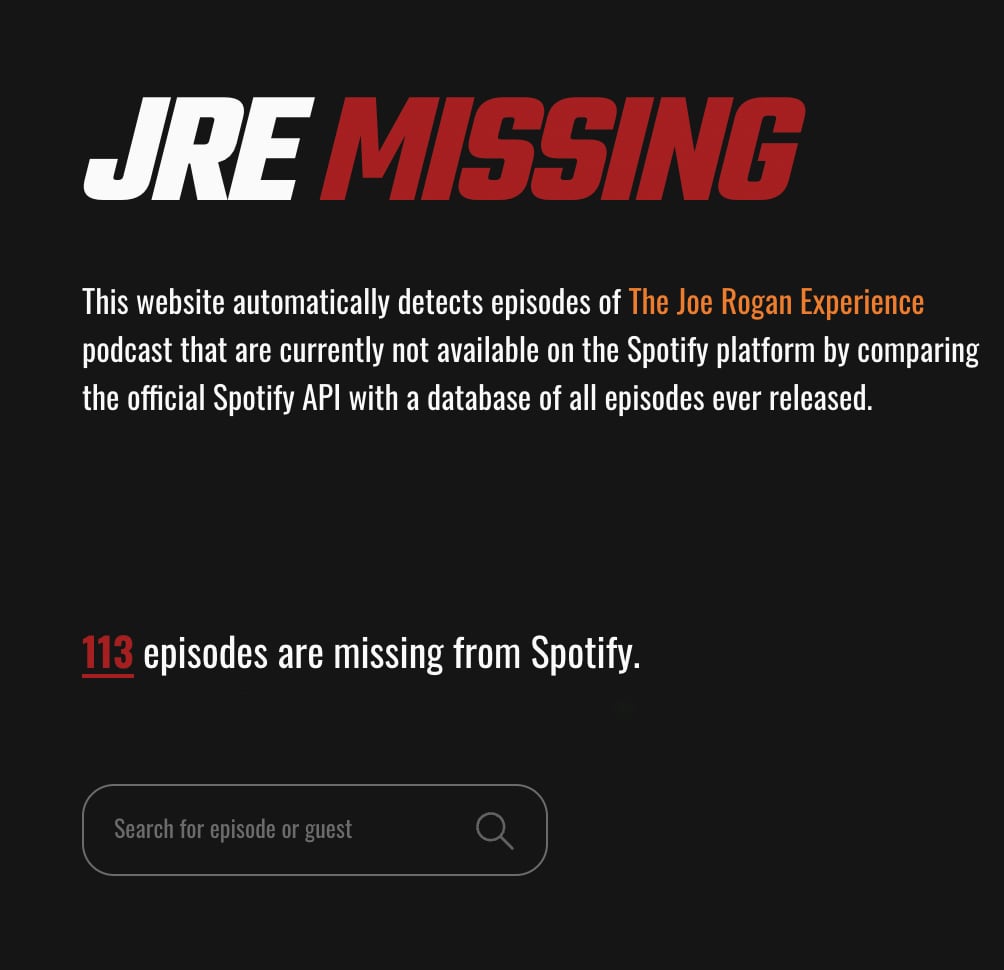 The deleted episodes are separate from the batch of episodes that Spotify deleted when Rogan first joined the platform on an exclusive basis.
Spotify has yet to confirm if the deletions are intentional and has put out no statement on the matter.
Joe Rogan has been a target of outrage in recent weeks, with demands for censorship coming from Twitter all the way to the White House. The legacy media accuses Rogan of promoting "misinformation" about the Covid-19 vaccines for interviewing doctors who disagree with mandates and promote early treatments for Covid-19.
Spotify has been contacted for comment and this story will be updated when more information is available.
---
See also:
TUCKER HAS A MESSAGE FOR POLITICIANS TRYING TO CENSOR BROADCASTERS
2 Comments »
I frankly don't understand all this sh*t. As I wrote somewhere the other day, when and if Spotify (or Zionist zealots/trackers/censors?) "delete" a specific Joe Rogan – Abby Martin blockbuster interview of 2017, I SHALL BE PISSED OFF (but have no idea what I could do about my outrage…). A friend of mine (on whose program I appeared "live"; a part of that 1017 program was an insert of the Rogan-Martin interview, close to one hour) has shown that interview on literally dozens if not many dozens of video contributions to our local public-access TV program slots between that 2017 up until today. So far the PATV hierarchy has not seen fit to censor my friend's productions….

I don't believe in censorship in any form or manner, but the Zionists have a particular (psychotic) passion for intimidation–for suppressing or eliminating any semblance of balanced Palestinian perspective. That's bullsh*t and is why I'm writing out here. I admit I'm parochial, but the Palestinians deserve a voice — and a break from Apartheid settler-colonial Zionism! Free speech/freedom of expression as related to Palestine! Viva Palestine! Palestine Is Still THE Issue!

(What's Tucker's position on Palestine – Zionism? C'mon, Tucker, tell us straight up. If you're as I suspect, you're like all the rest of the American sheople: commoners, gummint prostitutes, media shills, (esp.) bizarre/ungodly 'Christian' Zionists…who dutifully follow the sadistic Zionist line….)

Comment by roberthstiver | February 5, 2022 |

Suppression of "The Truth", is more evidence that, Reality is under siege in the USA(and elsewhere around the World.) The "Media"(including on line Media) will only let you se, what "They" want you to see.

Orwell's "Ministry of the Truth" is in full control of what you see and read……….(or, as in the Superman Movies some years ago, "You will believe that a man can fly"………) "Hollywood" is very clever at making you believe ANYTHING…….

Comment by brianharryaustralia | February 8, 2022 |
More Links

Contact:

atheonews (at) gmail.com

Disclaimer

This site is provided as a research and reference tool. Although we make every reasonable effort to ensure that the information and data provided at this site are useful, accurate, and current, we cannot guarantee that the information and data provided here will be error-free. By using this site, you assume all responsibility for and risk arising from your use of and reliance upon the contents of this site.

This site and the information available through it do not, and are not intended to constitute legal advice. Should you require legal advice, you should consult your own attorney.

Nothing within this site or linked to by this site constitutes investment advice or medical advice.

Materials accessible from or added to this site by third parties, such as comments posted, are strictly the responsibility of the third party who added such materials or made them accessible and we neither endorse nor undertake to control, monitor, edit or assume responsibility for any such third-party material.

The posting of stories, commentaries, reports, documents and links (embedded or otherwise) on this site does not in any way, shape or form, implied or otherwise, necessarily express or suggest endorsement or support of any of such posted material or parts therein.

The word "alleged" is deemed to occur before the word "fraud." Since the rule of law still applies. To peasants, at least.

Fair Use

This site contains copyrighted material the use of which has not always been specifically authorized by the copyright owner. We are making such material available in our efforts to advance understanding of environmental, political, human rights, economic, democracy, scientific, and social justice issues, etc. We believe this constitutes a 'fair use' of any such copyrighted material as provided for in section 107 of the US Copyright Law. In accordance with Title 17 U.S.C. Section 107, the material on this site is distributed without profit to those who have expressed a prior interest in receiving the included information for research and educational purposes. For more info go to: http://www.law.cornell.edu/uscode/17/107.shtml. If you wish to use copyrighted material from this site for purposes of your own that go beyond 'fair use', you must obtain permission from the copyright owner.

DMCA Contact

This is information for anyone that wishes to challenge our "fair use" of copyrighted material.

If you are a legal copyright holder or a designated agent for such and you believe that content residing on or accessible through our website infringes a copyright and falls outside the boundaries of "Fair Use", please send a notice of infringement by contacting atheonews@gmail.com.

We will respond and take necessary action immediately.

If notice is given of an alleged copyright violation we will act expeditiously to remove or disable access to the material(s) in question.

All 3rd party material posted on this website is copyright the respective owners / authors. Aletho News makes no claim of copyright on such material.