Google suppresses America's Frontline Doctors in search results
More evidence is emerging of Google manipulating algorithms powering its mammoth and highly influential search service to give certain results (much) more visibility than others.
And now, reports say, Google is not even trying to hide that this is the case, as America's Frontline Doctors (AFLDS) has been informed its reach on the internet is being artificially limited.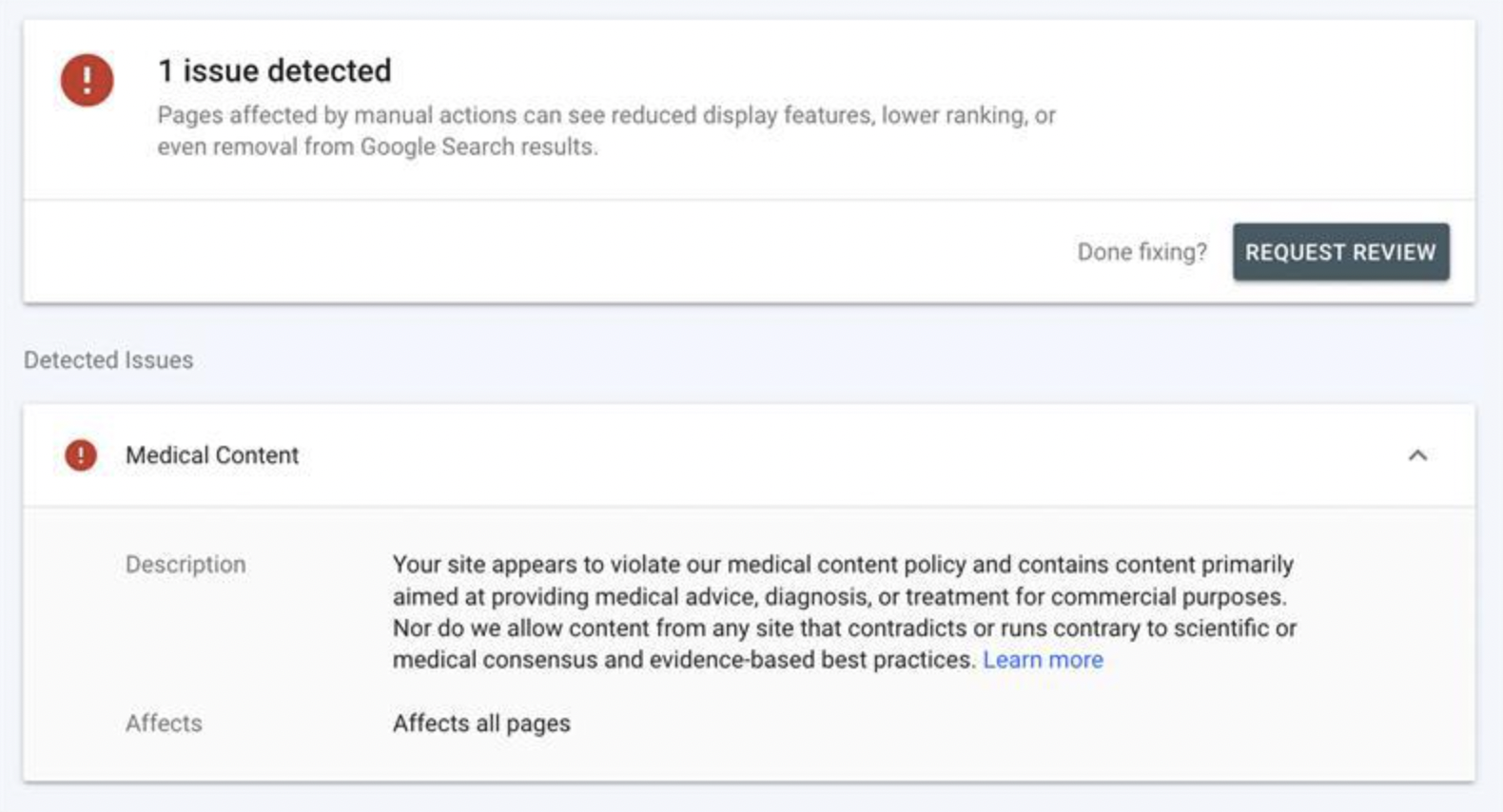 This organization says it is dedicated to improving doctor-patient relationships that are jeopardized by what it calls politicized science and biased information. The AFLDS would also like to provide patients with access to "independent, evidence-based information" that will inform people's decisions regarding their healthcare choices.
Well, meeting that goal might prove to be quite difficult since Google Search, on which a huge majority of US-based users rely for their internet queries, says it is deliberately deranking information coming from the AFLDS.
This transpires from alerts Google has been sending the organization, which state that an "issue" has been detected, which can be "fixed;" after that, the AFLDS can "request review."
And when an "issue" has been detected, Google spells it out that "Pages affected by manual actions can see reduced display features, lower ranking or even removal from Google Search results."
So what "issues" have been detected, you might ask next. Google's "explanation" is the usual hodgepodge of vague language and qualifiers, in line with the giant's now well-established censorship style.
The AFLDS is informed that its site "appears to violate" Google's medical content policy, which is not allowed – and neither is content that "contradicts or runs contrary to scientific or medical consensus and evidence based best practices."
That's according to Google's rules. What consensus, reached by who, and what best practices, determined by who, and at what time – none of this information is provided in the notices.
Google's rigid, authoritarian style of promoting one-sided content and eliminating different arguments and positions would in this case work by first deranking (and eventually removing) AFLDS links – unless the group agrees to self-censor.
And that means deleting content from the site, and then clicking on "'Request Review' button which is prefaced with the question, 'Done fixing?'," the AFLDS explains.
The organization also takes issue with Google's (deliberately) broad and ambiguous wording and lack of proper, or any definition of scientific and medical consensus and best practices – to ask why, "In a time when celebrities and computer programmers are allowed to express their views on virology, but actual doctors and scientists are censored, including the hundreds of doctors comprising AFLDS, such clarity is elusive."
No comments yet.
More Links

Contact:

atheonews (at) gmail.com

Disclaimer

This site is provided as a research and reference tool. Although we make every reasonable effort to ensure that the information and data provided at this site are useful, accurate, and current, we cannot guarantee that the information and data provided here will be error-free. By using this site, you assume all responsibility for and risk arising from your use of and reliance upon the contents of this site.

This site and the information available through it do not, and are not intended to constitute legal advice. Should you require legal advice, you should consult your own attorney.

Nothing within this site or linked to by this site constitutes investment advice or medical advice.

Materials accessible from or added to this site by third parties, such as comments posted, are strictly the responsibility of the third party who added such materials or made them accessible and we neither endorse nor undertake to control, monitor, edit or assume responsibility for any such third-party material.

The posting of stories, commentaries, reports, documents and links (embedded or otherwise) on this site does not in any way, shape or form, implied or otherwise, necessarily express or suggest endorsement or support of any of such posted material or parts therein.

The word "alleged" is deemed to occur before the word "fraud." Since the rule of law still applies. To peasants, at least.

Fair Use

This site contains copyrighted material the use of which has not always been specifically authorized by the copyright owner. We are making such material available in our efforts to advance understanding of environmental, political, human rights, economic, democracy, scientific, and social justice issues, etc. We believe this constitutes a 'fair use' of any such copyrighted material as provided for in section 107 of the US Copyright Law. In accordance with Title 17 U.S.C. Section 107, the material on this site is distributed without profit to those who have expressed a prior interest in receiving the included information for research and educational purposes. For more info go to: http://www.law.cornell.edu/uscode/17/107.shtml. If you wish to use copyrighted material from this site for purposes of your own that go beyond 'fair use', you must obtain permission from the copyright owner.

DMCA Contact

This is information for anyone that wishes to challenge our "fair use" of copyrighted material.

If you are a legal copyright holder or a designated agent for such and you believe that content residing on or accessible through our website infringes a copyright and falls outside the boundaries of "Fair Use", please send a notice of infringement by contacting atheonews@gmail.com.

We will respond and take necessary action immediately.

If notice is given of an alleged copyright violation we will act expeditiously to remove or disable access to the material(s) in question.

All 3rd party material posted on this website is copyright the respective owners / authors. Aletho News makes no claim of copyright on such material.