Lomborg criticizes medical journals for alarm about climate change
Danish scientist Bjorn Lomborg has reacted sharply on the claim of over 200 medical journals, earlier this month, that there are significant health risks to any temperature rise. He concludes that there are very basic mistakes underlying the alarmist claims and sent the following letter to the editor of The Lancet, one of the journals involved. Lomborg posted his letter on twitter.
Below the full letter.
---
Malmö, September 8, 2021
Dear Dr. Horton,
I read with interest your co-authored editorial "Call for emergency action to limit global temperature increases, restore biodiversity, and protect health" published in BMJ (2021;374:n1734) and many other international journals. As a core argument you write that there are significant health risks to any temperature rise and document it with "In the past 20 years, heat related mortality among people aged over 65 has increased by more than 50%." However, this mortality increase [i] is a simple count, not a rate. The overwhelming part of the increase is due to the fact that the global population of people aged over 65 increased more than 40% in the same time period. Indeed, the increase in heat mortality rate is a much lower 9.4%. I am sure you agree that making a causal claim without adjusting for a dramatically changed population is fundamentally unsound. In fact, I am positive that you and your journal would demand a rewrite of any paper making such an argument. It is analogously flawed to claiming that Brexit led to better health for the European Union because total deaths overnight dropped 600,000 per year when the UK left. Given the enormous attention that your paper received, I therefore reach out to you to hear what action you will take to ensure that this unsound argument is rectified.
Yours truly,
Bjorn Lomborg President, Copenhagen Consensus, and Visiting fellow, Hoover Institution at Stanford University
I hope it might be useful to visualize the issue.
Below, the left box illustrates your editorial's claim that temperature rises have increased the number of heat deaths of people aged 65+ by 53.7% while disregarding a 40% increase in the relevant population. The middle box shows the rate of heat deaths for the same population group, which takes into account the rapid increase in the population. I hope you will also find the right box interesting: it compares the heat deaths (which are slowly rising) with the much greater risk from cold deaths (declining much faster) from the Global Burden of Disease study. It highlights the problem with only looking at more heat death but neglecting the much greater fall in cold deaths.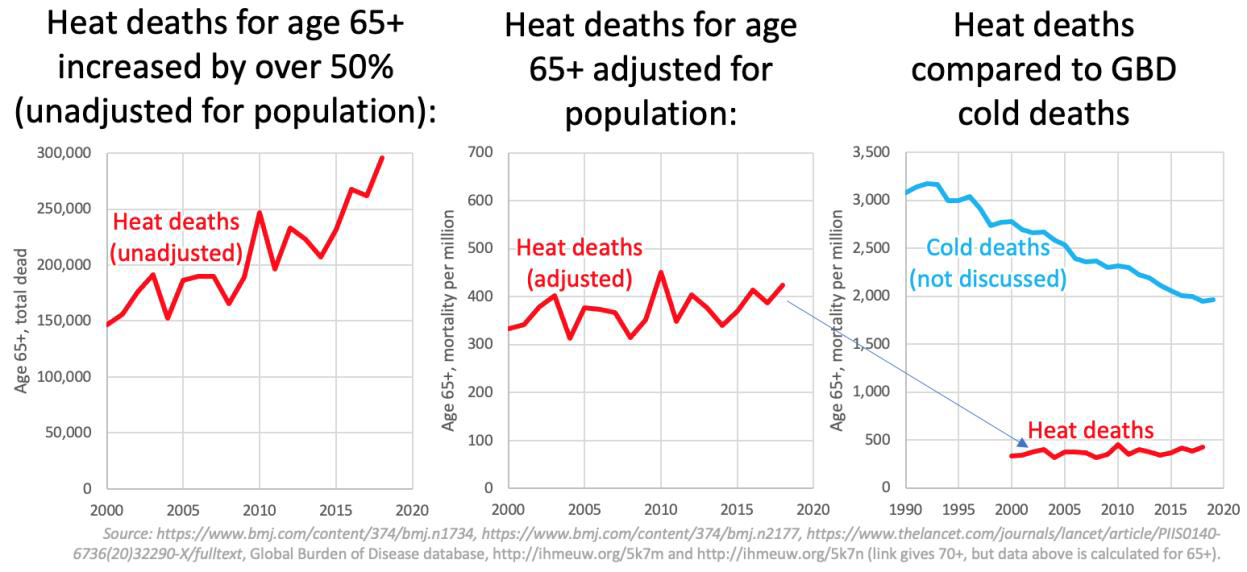 This result is comparable with a new Lancet study that shows global warming increased heat deaths of all deaths by 0.21% (from 0.83% in 2000-03 to 1.04% in 2016-19) and decreased cold deaths by 0.51% (from 8.70% to 8.19%).[ii]
[i] Your reference is indicator 1.1.3, which shows a 53.7% increase in heat mortality from 165,000 annual deaths in 2000-04 to 253,000 annual deaths in 2014-18, from "The 2020 report of The Lancet Countdown on health and climate change: responding to converging crises" in the Lancet (https://doi.org/10.1016/S0140-6736(20)32290-X).
[ii] Table S5&6, "Global, regional, and national burden of mortality associated with non-optimal ambient temperatures from 2000 to 2019: a three-stage modelling study" Lancet Planet Health 2021; 5:e415–25.
1 Comment »
As if a tiny temp rise that cannot even be measured could increase the death rate then the lancet is a comic jumping on the vaxxine / CO2 bandwagon

LikeLike

Comment by charles allan | September 22, 2021 |
Visits Since December 2009

Looking for something?

Archives

Calendar

Categories

Tags

Recent Comments
More Links

Contact:

atheonews (at) gmail.com

Disclaimer

This site is provided as a research and reference tool. Although we make every reasonable effort to ensure that the information and data provided at this site are useful, accurate, and current, we cannot guarantee that the information and data provided here will be error-free. By using this site, you assume all responsibility for and risk arising from your use of and reliance upon the contents of this site.

This site and the information available through it do not, and are not intended to constitute legal advice. Should you require legal advice, you should consult your own attorney.

Nothing within this site or linked to by this site constitutes investment advice or medical advice.

Materials accessible from or added to this site by third parties, such as comments posted, are strictly the responsibility of the third party who added such materials or made them accessible and we neither endorse nor undertake to control, monitor, edit or assume responsibility for any such third-party material.

The posting of stories, commentaries, reports, documents and links (embedded or otherwise) on this site does not in any way, shape or form, implied or otherwise, necessarily express or suggest endorsement or support of any of such posted material or parts therein.

The word "alleged" is deemed to occur before the word "fraud." Since the rule of law still applies. To peasants, at least.

Fair Use

This site contains copyrighted material the use of which has not always been specifically authorized by the copyright owner. We are making such material available in our efforts to advance understanding of environmental, political, human rights, economic, democracy, scientific, and social justice issues, etc. We believe this constitutes a 'fair use' of any such copyrighted material as provided for in section 107 of the US Copyright Law. In accordance with Title 17 U.S.C. Section 107, the material on this site is distributed without profit to those who have expressed a prior interest in receiving the included information for research and educational purposes. For more info go to: http://www.law.cornell.edu/uscode/17/107.shtml. If you wish to use copyrighted material from this site for purposes of your own that go beyond 'fair use', you must obtain permission from the copyright owner.

DMCA Contact

This is information for anyone that wishes to challenge our "fair use" of copyrighted material.

If you are a legal copyright holder or a designated agent for such and you believe that content residing on or accessible through our website infringes a copyright and falls outside the boundaries of "Fair Use", please send a notice of infringement by contacting atheonews@gmail.com.

We will respond and take necessary action immediately.

If notice is given of an alleged copyright violation we will act expeditiously to remove or disable access to the material(s) in question.

All 3rd party material posted on this website is copyright the respective owners / authors. Aletho News makes no claim of copyright on such material.