Climate change fueled witch hunts… Then and now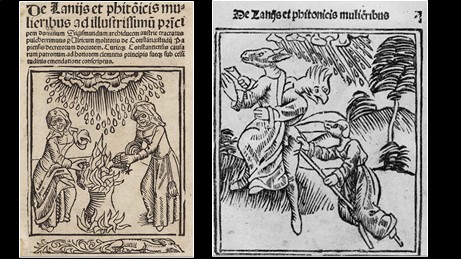 European witch hunts of the 15th to 17th centuries targeted witches that were  thought to be responsible for epidemics and crop failures related to  declining temperatures of the Little Ice Age. A belief that evil humans  were negatively affecting the climate and weather patterns was the  "consensus" opinion of that time. How eerily similar is that notion to  the the current oft-repeated mantra that Man's actions are controlling  the climate and leading to catastrophic consequences?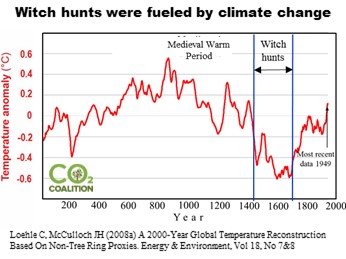 The first extensive European witch hunts coincided with plunging temperatures as the continent transitioned away from the beneficial warmth of the Medieval Warm Period (850 to 1250 AD). Increasing cold that began in the 13th century ushered in nearly five centuries of advancing mountain glaciers and prolonged periods of rainy or cool weather. This time of naturally-driven climate change was accompanied by crop failure, hunger, rising prices, epidemics and mass depopulation.
Large systematic witch hunts began in the 1430s and were advanced later in the century by an Alsatian Dominican friar and papal Inquisitor named Heinrich Kramer. At Kramer's urging, Pope Innocence VIII issued an encyclical enshrining the persecution and eradication of weather-changing witches through this papal edict. The worst of the Inquisition's abuses and later systemic witch hunts were, in part, empowered by this decree.
This initial period of cooler temperatures and failing crops continued through the first couple of decades of the 16th century, when a slight warming was accompanied by improvements in harvests. Clearly, the pogrom against the weather-changing witches had been successful!
Unfortunately for the people of the Late Middle Ages, the forty years or so of slight warming gave ground to a more severe bout of cooling. The summer of 1560 brought a return of coldness and wetness that led to severe decline in harvest, crop failure and increases in infant mortality and epidemics. Bear in mind that this was an agrarian subsistence culture, nearly totally dependent on the yearly harvest to survive. One bad harvest could be tolerated, but back-to-back failures would cause horrific consequences, and indeed they did.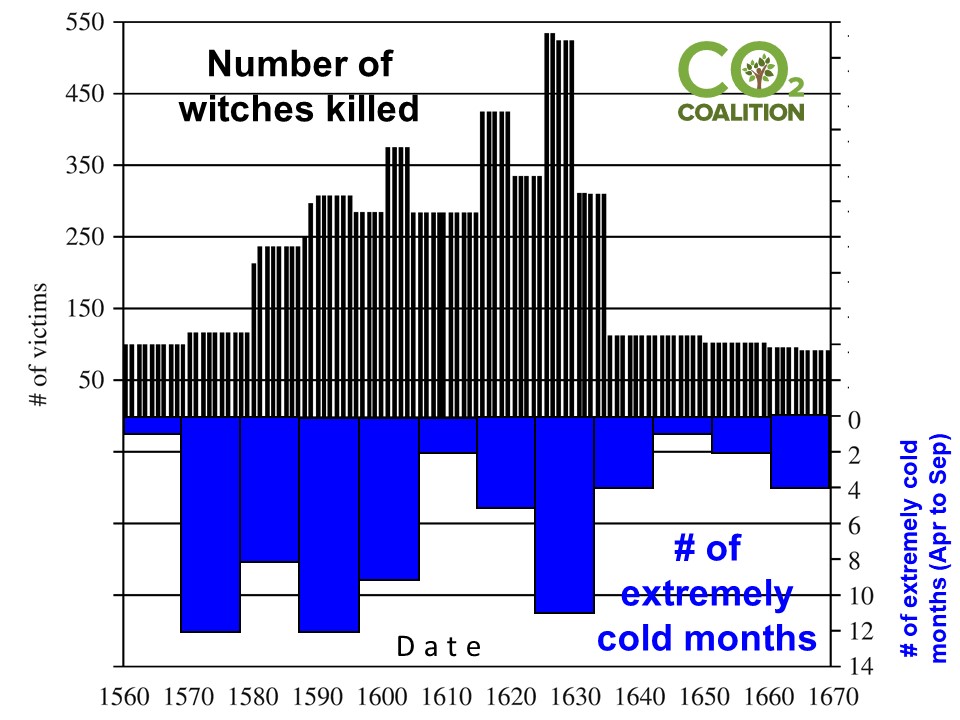 Of course, the people's misfortunes were attributed to weather-changing witches who had triggered the death-dealing weather, most often in the form of cold, rain, frost and devastating hailstorms. Horrific atrocities were alleged of the witches, including Franconian witches who "confessed" to flying through the air to spread an ointment made of children's fat in order to cause a killing frost. Across the continent of Europe, from the 15th to the 17th centuries there were likely many tens of thousands of supposed witches burnt at the stake, many of these old women living without husbands on the margins of society.
The worst of the witch hunts occurred during the bitter cold from 1560 to about 1680. The frenzy of killing culminated in the killing of 63 witches in the German territory of Wiesensteig in the year 1563 alone. Across Europe, though, the numbers of witches continued to increase and peaked at more than 500 per year in the mid-1600s. Most were burned at the stake; others were hung.
The end of the witch hunts and killings tie closely to the beginning of our current warming trend at the close of the 17th century. That warming trend started more than 300 years ago and continues in fits and starts to this day.
In the Late Middle Ages, a large segment of the population actually believed that evil people could negatively affect the climate. It appears that we haven't learned the lessons of the 16th century and the dangers of stirring unfounded fears concerning changes to our climate. Perhaps in the not too distant future we will have the benefit of hindsight and realize that people like Al Gore and Dr. Michael Mann were the Heinrich Kramers of the early 21st century, trying to convince us all that we can control the uncontrollable — the natural cycles of the Sun and Earth that are operating today, just as they have for many millions of years.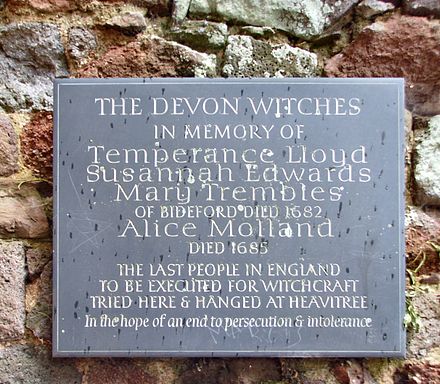 Gregory Wrightstone is a geologist and the Executive Director of the CO2 Coalition in Arlington Virginia. He is bestselling author of Inconvenient Facts: The Science that Al Gore doesn't want you to know. 
References:
Pfister (2007) Witch Hunts: Strategies of European Societies in Coping with Exogenous Shocks in the Late Sixteenth and Early Seventeenth Centuries
Behringer (1999) Climatic change and witch-hunting: the impact of the Little Ice Age on mentalities.
1 Comment »
How many of these woman were totally innocent – just waiting for the knock on
the door of the local virtue signaller followed by a corrupt trial .
Although God can eventually take away his blessings from a nation that sins with abortion and adultery etc as the Venerable Bede the weather monk tells
us – justice and due process was seldom served by a witch hunt .

The mob are doing the same with those who have not taken the toxic useless vaccine and with those who have not bowed to the CO2 and weather zealots.

I think it is a concience thing – they have a bad concience with real sin and use CO2 and vax hesitancy to virtue signal their concience clear .
Plus its also a lucrative gravy train and power trip for poseurs plus slap meals.

When you see Gates the eugenist with his planes and yachts and houses
coming to a CO2 junket it the hypocrisy is sickening .

Without CO2 we are all dead and God is wide awake and can control the climate and the CO2 cycle without help from the Pope or Welby

LikeLike

Comment by charles allan | November 1, 2021 |
Visits Since December 2009

Looking for something?

Archives

Calendar

Categories

Tags

Recent Comments
More Links

Contact:

atheonews (at) gmail.com

Disclaimer

This site is provided as a research and reference tool. Although we make every reasonable effort to ensure that the information and data provided at this site are useful, accurate, and current, we cannot guarantee that the information and data provided here will be error-free. By using this site, you assume all responsibility for and risk arising from your use of and reliance upon the contents of this site.

This site and the information available through it do not, and are not intended to constitute legal advice. Should you require legal advice, you should consult your own attorney.

Nothing within this site or linked to by this site constitutes investment advice or medical advice.

Materials accessible from or added to this site by third parties, such as comments posted, are strictly the responsibility of the third party who added such materials or made them accessible and we neither endorse nor undertake to control, monitor, edit or assume responsibility for any such third-party material.

The posting of stories, commentaries, reports, documents and links (embedded or otherwise) on this site does not in any way, shape or form, implied or otherwise, necessarily express or suggest endorsement or support of any of such posted material or parts therein.

The word "alleged" is deemed to occur before the word "fraud." Since the rule of law still applies. To peasants, at least.

Fair Use

This site contains copyrighted material the use of which has not always been specifically authorized by the copyright owner. We are making such material available in our efforts to advance understanding of environmental, political, human rights, economic, democracy, scientific, and social justice issues, etc. We believe this constitutes a 'fair use' of any such copyrighted material as provided for in section 107 of the US Copyright Law. In accordance with Title 17 U.S.C. Section 107, the material on this site is distributed without profit to those who have expressed a prior interest in receiving the included information for research and educational purposes. For more info go to: http://www.law.cornell.edu/uscode/17/107.shtml. If you wish to use copyrighted material from this site for purposes of your own that go beyond 'fair use', you must obtain permission from the copyright owner.

DMCA Contact

This is information for anyone that wishes to challenge our "fair use" of copyrighted material.

If you are a legal copyright holder or a designated agent for such and you believe that content residing on or accessible through our website infringes a copyright and falls outside the boundaries of "Fair Use", please send a notice of infringement by contacting atheonews@gmail.com.

We will respond and take necessary action immediately.

If notice is given of an alleged copyright violation we will act expeditiously to remove or disable access to the material(s) in question.

All 3rd party material posted on this website is copyright the respective owners / authors. Aletho News makes no claim of copyright on such material.