LinkedIn censors interview with British cardiologist who criticized Pfizer vaccine data coverup
LinkedIn has decided that a video about the efficacy of Covid vaccines, originally posted on YouTube and featuring Dr. Aseem Malhotra was violating its "professional community policies."
Interviewer Maajid Nawaz posted a screenshot of the message he received from LinkedIn on Facebook, informing him of the removal and that only he can now see the post.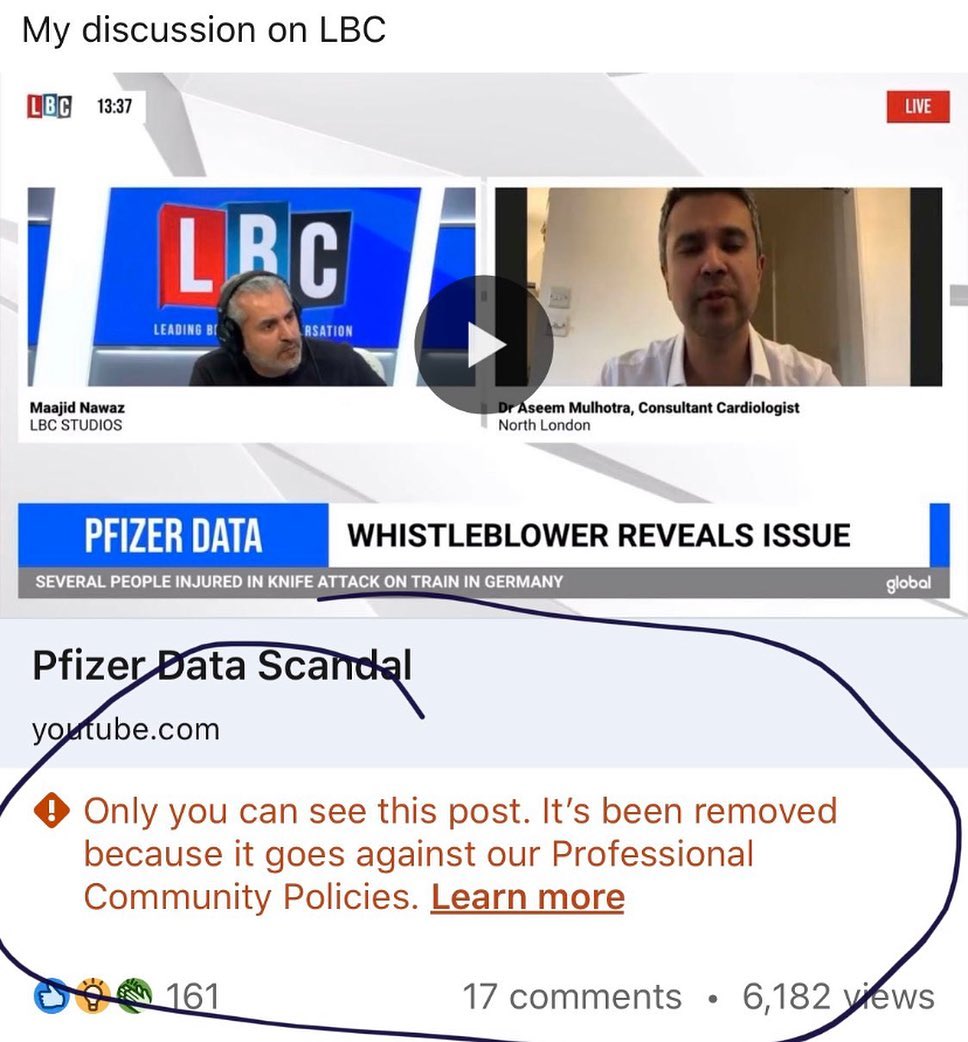 No other details for the censorship were given, other than a link presumably leading to LinkedIn's policy page which requires users to be "safe, civil and respectful," trustworthy by using their real identity and sharing "real and authentic" information, as well as make sure the content users posts is professionally relevant.
The video, which is still available on YouTube as of this writing, features Dr. Malhotra interviewed on the LBC talk radio station, posted under the headline, "Pfizer data scandal."
Dr. Malhotra's conversation with LBC's Maajid Nawaz shown in the video focused on vaccine mandates, which he believes to be unethical, and the cardiologist's belief that the healthcare crisis is the result of what he called "the corporate capture of public health."
Dr. Malhotra also does not think that getting the jab has proved to significantly reduce transmission of the virus, he revealed during the interview, accusing Big Food and Big Pharma industries of chasing profits rather than looking for ways to improve health, and as more willing to pay billions in fines over the years, than changing their way of doing business.
He also commented on a whistleblower revealing that a Pfizer contractor was falsifying Covid vaccine trials data, which would mean that the effectiveness of the vaccine might have been overstated.
Speaking more broadly about the problem in the pharmaceutical industry and in the healthcare system, Malhotra said that clinical decisions are made on what he said were incomplete, biased, "and in many cases potentially corrupted data."
The doctor also revealed that he was vaccinated with both doses earlier in the year believing he was protecting his patients from getting infected by him – but that he now thinks this belief was false.
"What's now very very clear, as this data's evolving," Malhotra said, "is that there's no significant reduction in transmission from taking the vaccine."
However, he also noted that he thinks there is valid data showing the vaccine does prevent serious illness and death – but that healthy and young individuals likely don't benefit from it.
1 Comment »
In my view and in the view of this nun, the cardiologist is understating the problem of the plandemic and the so-called 'vaccines'. https://www.bitchute.com/video/4jMTanMpwCD3/

LikeLike

Comment by rediscover911com | November 11, 2021 |
Visits Since December 2009

Looking for something?

Archives

Calendar

Categories

Tags

Recent Comments
More Links

Contact:

atheonews (at) gmail.com

Disclaimer

This site is provided as a research and reference tool. Although we make every reasonable effort to ensure that the information and data provided at this site are useful, accurate, and current, we cannot guarantee that the information and data provided here will be error-free. By using this site, you assume all responsibility for and risk arising from your use of and reliance upon the contents of this site.

This site and the information available through it do not, and are not intended to constitute legal advice. Should you require legal advice, you should consult your own attorney.

Nothing within this site or linked to by this site constitutes investment advice or medical advice.

Materials accessible from or added to this site by third parties, such as comments posted, are strictly the responsibility of the third party who added such materials or made them accessible and we neither endorse nor undertake to control, monitor, edit or assume responsibility for any such third-party material.

The posting of stories, commentaries, reports, documents and links (embedded or otherwise) on this site does not in any way, shape or form, implied or otherwise, necessarily express or suggest endorsement or support of any of such posted material or parts therein.

The word "alleged" is deemed to occur before the word "fraud." Since the rule of law still applies. To peasants, at least.

Fair Use

This site contains copyrighted material the use of which has not always been specifically authorized by the copyright owner. We are making such material available in our efforts to advance understanding of environmental, political, human rights, economic, democracy, scientific, and social justice issues, etc. We believe this constitutes a 'fair use' of any such copyrighted material as provided for in section 107 of the US Copyright Law. In accordance with Title 17 U.S.C. Section 107, the material on this site is distributed without profit to those who have expressed a prior interest in receiving the included information for research and educational purposes. For more info go to: http://www.law.cornell.edu/uscode/17/107.shtml. If you wish to use copyrighted material from this site for purposes of your own that go beyond 'fair use', you must obtain permission from the copyright owner.

DMCA Contact

This is information for anyone that wishes to challenge our "fair use" of copyrighted material.

If you are a legal copyright holder or a designated agent for such and you believe that content residing on or accessible through our website infringes a copyright and falls outside the boundaries of "Fair Use", please send a notice of infringement by contacting atheonews@gmail.com.

We will respond and take necessary action immediately.

If notice is given of an alleged copyright violation we will act expeditiously to remove or disable access to the material(s) in question.

All 3rd party material posted on this website is copyright the respective owners / authors. Aletho News makes no claim of copyright on such material.