Arctic River Discharge Growing
AMHERST, Mass. — A civil and environmental engineering researcher at the University of Massachusetts Amherst has, for the first time, assimilated satellite information into on-site river measurements and hydrologic models to calculate the past 35 years of river discharge in the entire pan-Arctic region. The research reveals, with unprecedented accuracy, that the acceleration of water pouring into the Arctic Ocean could be three times higher than previously thought.
The publicly available study, published recently in Nature Communications, is the result of three years of intensive work by research assistant professor Dongmei Feng, the first and corresponding author on the paper. The unprecedented research assimilates 9.18 million river discharge estimates made from 155,710 orbital satellite images into hydrologic model simulations of 486,493 Arctic river reaches from 1984-2018. The project and the paper are called RADR (Remotely-sensed Arctic Discharge Reanalysis) and was funded by NASA and National Science Foundation programs for early career researchers.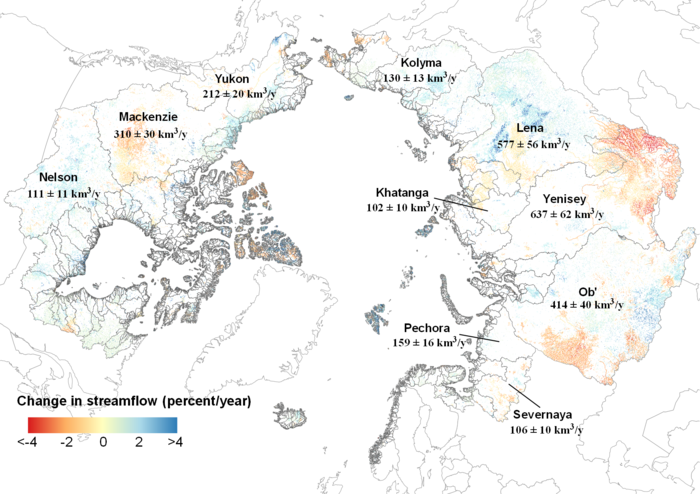 The key thing about this study is not that river flows are greater than previously estimated, but that they have increased over the period of the study, 1984-2018:
This is significant because it means the Arctic Ocean is gradually becoming fresher. Exactly the same phenomenon occurred during what was called The Great Salinity Anomaly, GSA, which began in the 1960s. As Dickson & Osterhus described in their study, One Hundred Years in the Norwegian Sea in 2007:
Though other factors were involved in the freshening of the Arctic Ocean, such as the NAO, the GSA marked a dramatic shift in the Arctic climate, putting an end to what is known as the Warming of the North between 1920 and 1960 and bringing a much colder era.
Part of the reason for this is the fact that freshwater freezes at higher temperatures than salty water, leading to an increase in sea ice. The GSA is also known to have slowed down the Atlantic meridional overturning circulation (AMOC).
HH Lamb also wrote about it, particularly how the GSA was triggered by greater run off from rivers in Canada flowing into the Arctic:
HH Lamb: Climate, History & The Modern World
And a Russian study by Viktor Kuzin shows that 11% of the world's river water flows into the Arctic, a considerable amount.
A milder Arctic tends to be a wetter one, but a wetter climate leads to freshening of the ocean and a return to colder conditions. In other words, it is cyclical.
All of this reinforces the likelihood that the Arctic will become much colder, with sea ice expanding again in the not too distant future.
2 Comments »
There is a true howler of an error in this Arctic river discharge article. You write: " Part of the reason for this is the fact that freshwater freezes at higher temperatures than salty water, leading to an increase in sea ice." Of course the proper qualifier is "lower". You might want to correct this ASAP.

Cheers

LikeLike

Comment by coinherence | December 1, 2021 |
Visits Since December 2009

Looking for something?

Archives

Calendar

Categories

Tags

Recent Comments
More Links

Contact:

atheonews (at) gmail.com

Disclaimer

This site is provided as a research and reference tool. Although we make every reasonable effort to ensure that the information and data provided at this site are useful, accurate, and current, we cannot guarantee that the information and data provided here will be error-free. By using this site, you assume all responsibility for and risk arising from your use of and reliance upon the contents of this site.

This site and the information available through it do not, and are not intended to constitute legal advice. Should you require legal advice, you should consult your own attorney.

Nothing within this site or linked to by this site constitutes investment advice or medical advice.

Materials accessible from or added to this site by third parties, such as comments posted, are strictly the responsibility of the third party who added such materials or made them accessible and we neither endorse nor undertake to control, monitor, edit or assume responsibility for any such third-party material.

The posting of stories, commentaries, reports, documents and links (embedded or otherwise) on this site does not in any way, shape or form, implied or otherwise, necessarily express or suggest endorsement or support of any of such posted material or parts therein.

The word "alleged" is deemed to occur before the word "fraud." Since the rule of law still applies. To peasants, at least.

Fair Use

This site contains copyrighted material the use of which has not always been specifically authorized by the copyright owner. We are making such material available in our efforts to advance understanding of environmental, political, human rights, economic, democracy, scientific, and social justice issues, etc. We believe this constitutes a 'fair use' of any such copyrighted material as provided for in section 107 of the US Copyright Law. In accordance with Title 17 U.S.C. Section 107, the material on this site is distributed without profit to those who have expressed a prior interest in receiving the included information for research and educational purposes. For more info go to: http://www.law.cornell.edu/uscode/17/107.shtml. If you wish to use copyrighted material from this site for purposes of your own that go beyond 'fair use', you must obtain permission from the copyright owner.

DMCA Contact

This is information for anyone that wishes to challenge our "fair use" of copyrighted material.

If you are a legal copyright holder or a designated agent for such and you believe that content residing on or accessible through our website infringes a copyright and falls outside the boundaries of "Fair Use", please send a notice of infringement by contacting atheonews@gmail.com.

We will respond and take necessary action immediately.

If notice is given of an alleged copyright violation we will act expeditiously to remove or disable access to the material(s) in question.

All 3rd party material posted on this website is copyright the respective owners / authors. Aletho News makes no claim of copyright on such material.