Twitter bans largest Ghislaine Maxwell trial tracker account, @TrackerTrial
@TrackerTrial, an account with over 525,000 followers that provided regular updates on the Ghislaine Maxwell sex trafficking trial, has been banned from Twitter, just 10 days after the trial began.
The high-profile trial of Maxwell, who is accused of facilitating the sexual exploitation of girls for convicted sex offender Jeffrey Epstein, isn't being broadcast so people have turned to social media to get updates on the trial. Twitter's focus on real-time updates and breaking news has resulted in it being the preferred platform for many independent accounts that are covering the trial.
Twitter claimed that the @TrackerTrial account had violated its rules against "platform manipulation and spam" and cited its rules around artificially amplifying or suppressing information when banning the account.
"This is the first censorship that the account has experienced," The Free Press Report told Reclaim The Net. "No warnings or anything. I woke up this morning and my account was gone."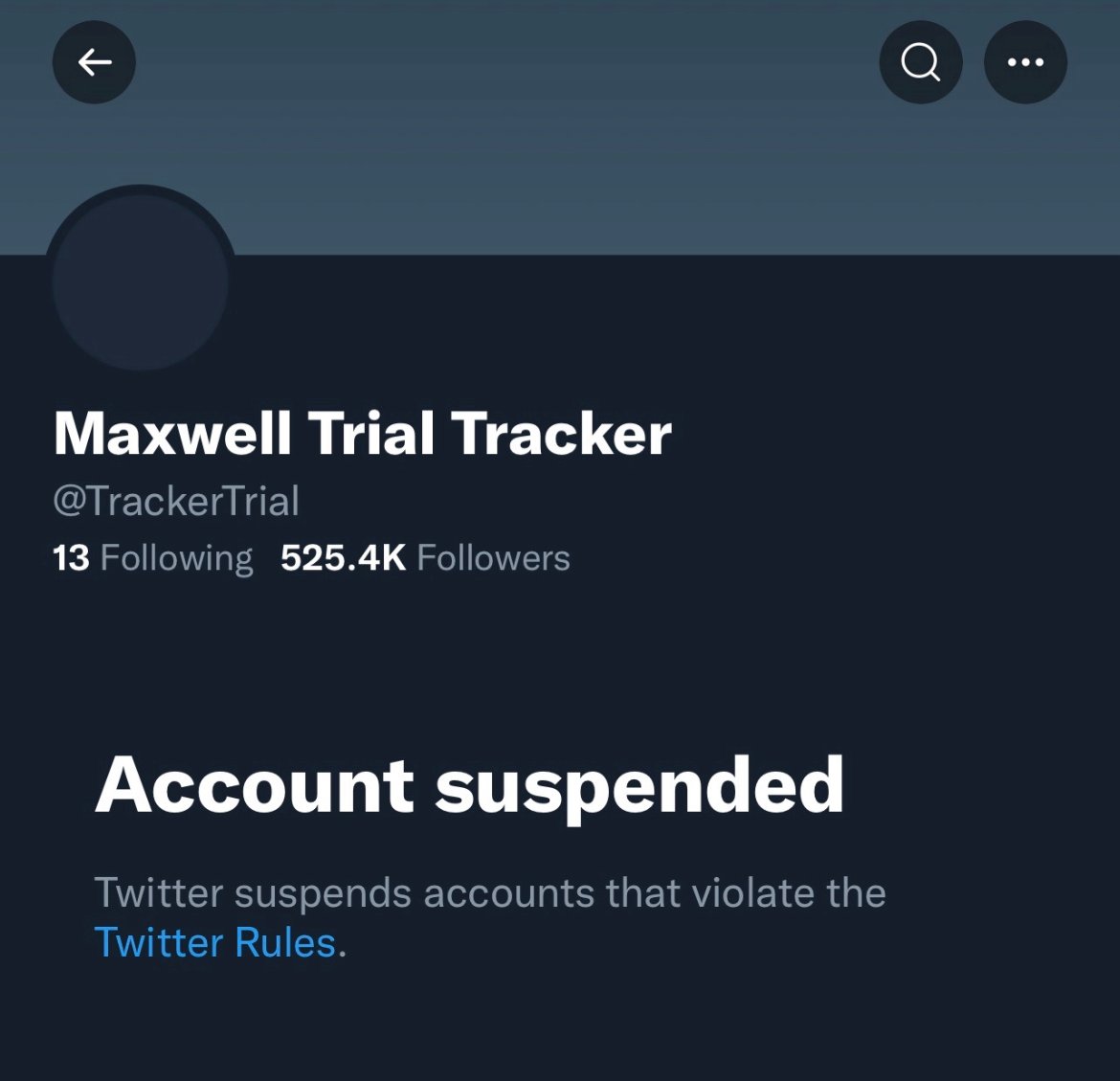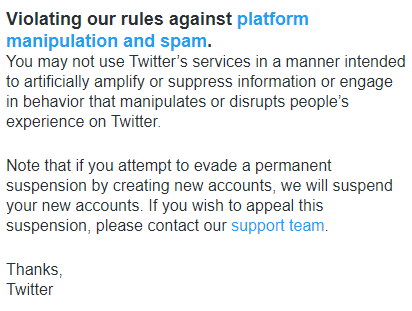 However, the account's creator, pushed back against Twitter's claims and said: "The account got insane engagement, which by the way, was all organic. There was not outside amplification."
"The people wanted to hear the truth about the Ghislaine Maxwell, and Jeffrey Epstein trial and the engagement numbers showed that," The Free Press Report added. "There were hundreds of millions in impressions and an account that went from zero to over 525,000 followers in a couple of weeks. All we did was report information from the trial that the mainstream media was failing to do."
The Free Press Report has appealed the suspension and has vowed to continue reporting on the trial via its Substack. It has also encouraged people to follow its Gab account for "a more informal route of communication."
Additionally, The Free Press Report warned about the power of Big Tech and how it can use its stranglehold over news distribution to determine which news stories are promoted and which news stories are suppressed.
"Big tech has gotten too powerful, and they can silence us anytime they want," The Free Press Report wrote. "Local blogs and websites are suppressed by big tech algorithms. If you write one thing out of line Google can institute a site-wide ban, making sure you never show up in search algorithms again. Facebook restricts what is posted on their website. Twitter suppresses any outside links, to keep users on their own site. The year is 2021 and big brother is watching."
This isn't the first time Big Tech has censored content related to Maxwell and Epstein with Facebook and YouTube censoring and "fact-checking" commentary and memes on Epstein's 2019 suicide. A roast of Epstein and Maxwell was also removed from Facebook for violating the platform's rules around "harassment and bullying."
Twitter has been approached for comment.
2 Comments »
"All we did was report information from the trial that the mainstream media was failing to do."

Which is how Mainstream Media has always worked. Imaging what would happen if all the cattle and sheep in the world, suddenly worked out why they were being fed and watered………..and suddenly heard about the "Abattoir"(that's a Slaughterhouse, to Americans….)

LikeLike

Comment by brianharryaustralia | December 8, 2021 |

Twitter: what is that thing called "Twitter"? Is this an effort on its part to dampen the moral anger, that already is the result of knowing what these people did to children? What really happened to that pedophile, Epstein? In this regard, how could the guards be "asleep", the cameras turned off, the autopsy questionable?

Is this an effort to dampen moral anger at the two jewish people did in preying upon the vulnerable, "shiksa"? Is it an effort to prevent discovery of how this whole operation had Israeli directions, money and motive?

LikeLike

Comment by michael | December 8, 2021 |
Visits Since December 2009

Looking for something?

Archives

Calendar

Categories

Tags

Recent Comments
More Links

Contact:

atheonews (at) gmail.com

Disclaimer

This site is provided as a research and reference tool. Although we make every reasonable effort to ensure that the information and data provided at this site are useful, accurate, and current, we cannot guarantee that the information and data provided here will be error-free. By using this site, you assume all responsibility for and risk arising from your use of and reliance upon the contents of this site.

This site and the information available through it do not, and are not intended to constitute legal advice. Should you require legal advice, you should consult your own attorney.

Nothing within this site or linked to by this site constitutes investment advice or medical advice.

Materials accessible from or added to this site by third parties, such as comments posted, are strictly the responsibility of the third party who added such materials or made them accessible and we neither endorse nor undertake to control, monitor, edit or assume responsibility for any such third-party material.

The posting of stories, commentaries, reports, documents and links (embedded or otherwise) on this site does not in any way, shape or form, implied or otherwise, necessarily express or suggest endorsement or support of any of such posted material or parts therein.

The word "alleged" is deemed to occur before the word "fraud." Since the rule of law still applies. To peasants, at least.

Fair Use

This site contains copyrighted material the use of which has not always been specifically authorized by the copyright owner. We are making such material available in our efforts to advance understanding of environmental, political, human rights, economic, democracy, scientific, and social justice issues, etc. We believe this constitutes a 'fair use' of any such copyrighted material as provided for in section 107 of the US Copyright Law. In accordance with Title 17 U.S.C. Section 107, the material on this site is distributed without profit to those who have expressed a prior interest in receiving the included information for research and educational purposes. For more info go to: http://www.law.cornell.edu/uscode/17/107.shtml. If you wish to use copyrighted material from this site for purposes of your own that go beyond 'fair use', you must obtain permission from the copyright owner.

DMCA Contact

This is information for anyone that wishes to challenge our "fair use" of copyrighted material.

If you are a legal copyright holder or a designated agent for such and you believe that content residing on or accessible through our website infringes a copyright and falls outside the boundaries of "Fair Use", please send a notice of infringement by contacting atheonews@gmail.com.

We will respond and take necessary action immediately.

If notice is given of an alleged copyright violation we will act expeditiously to remove or disable access to the material(s) in question.

All 3rd party material posted on this website is copyright the respective owners / authors. Aletho News makes no claim of copyright on such material.