For those wondering what will come after the Covid-19 pandemic has successfully all but shut down the entire world economy, spreading the worst depression since the 1930s, the leaders of the premier globalization NGO, Davos World Economic Forum, have just unveiled the outlines of what we can expect next. These people have decided to use this crisis as an opportunity.
On June 3 via their website, the Davos World Economic Forum (WEF) unveiled the outlines of their upcoming January 2021 forum. They call it "The Great Reset." It entails taking advantage of the staggering impact of the coronavirus to advance a very specific agenda. Notably enough, that agenda dovetails perfectly with another specific agenda, namely the 2015 UN Agenda 2030. The irony of the world's leading big business forum, the one that has advanced the corporate globalization agenda since the 1990s, now embracing what they call sustainable development, is huge. That gives us a hint that this agenda is not quite about what WEF and partners claim.
The Great Reset
On June 3 WEF chairman Klaus Schwab released a video announcing the annual theme for 2021, The Great Reset. It seems to be nothing less than promoting a global agenda of restructuring the world economy along very specific lines, not surprisingly much like that advocated by the IPCC, by Greta from Sweden and her corporate friends such as Al Gore or Blackwater's Larry Fink.
Interesting is that WEF spokespeople frame the "reset" of the world economy in the context of the coronavirus and the ensuing collapse of the world industrial economy. The WEF website states, "There are many reasons to pursue a Great Reset, but the most urgent is COVID-19." So the Great Reset of the global economy flows from covid19 and the "opportunity" it presents.
In announcing the 2021 theme, WEF founder Schwab then said, cleverly shifting the agenda: "We only have one planet and we know that climate change could be the next global disaster with even more dramatic consequences for humankind." The implication is that climate change is the underlying reason for the coronavirus pandemic catastrophe.
To underscore their green "sustainable" agenda, WEF then has an appearance by the would-be King of England, Prince Charles. Referring to the global covid19 catastrophe, the Prince of Wales says, "If there is one critical lesson to learn from this crisis, it is that we need to put nature at the heart of how we operate. We simply can't waste more time." On board with Schwab and the Prince is the Secretary-General of the UN, Antonio Guterres. He states, "We must build more equal, inclusive and sustainable economies and societies that are more resilient in the face of pandemics, climate change and the many other global changes we face." Note his talk of "sustainable economies and societies"—more on that later. The new head of the IMF, Kristalina Georgieva, also endorsed The Great Reset. Other WEF resetters included Ma Jun, the chairman of the Green Finance Committee at the China Society for Finance and Banking and a member of the Monetary Policy Committee of the People's Bank of China; Bernard Looney, CEO of BP; Ajay Banga, CEO of Mastercard; Bradford Smith, president of Microsoft.
Make no mistake, the Great Reset is no spur-of-the moment idea of Schwab and friends. The WEF website states, "COVID-19 lockdowns may be gradually easing, but anxiety about the world's social and economic prospects is only intensifying. There is good reason to worry: a sharp economic downturn has already begun, and we could be facing the worst depression since the 1930s. But, while this outcome is likely, it is not unavoidable." The WEF sponsors have big plans: "… the world must act jointly and swiftly to revamp all aspects of our societies and economies, from education to social contracts and working conditions. Every country, from the United States to China, must participate, and every industry, from oil and gas to tech, must be transformed. In short, we need a "Great Reset" of capitalism." This is big stuff.
Radical changes
Schwab reveals more of the coming agenda: "… one silver lining of the pandemic is that it has shown how quickly we can make radical changes to our lifestyles. Almost instantly, the crisis forced businesses and individuals to abandon practices long claimed to be essential, from frequent air travel to working in an office." These are supposed to be silver linings?
He suggests that those radical changes be extended: "The Great Reset agenda would have three main components. The first would steer the market toward fairer outcomes. To this end, governments should improve coordination… and create the conditions for a "stakeholder economy…" It would include "changes to wealth taxes, the withdrawal of fossil-fuel subsidies, and new rules governing intellectual property, trade, and competition."
The second component of the Great Reset agenda would ensure that, "investments advance shared goals, such as equality and sustainability." Here the WEF head states that the recent huge economic stimulus budgets from the EU, USA, China and elsewhere be used to create a new economy, "more resilient, equitable, and sustainable in the long run. This means, for example, building 'green' urban infrastructure and creating incentives for industries to improve their track record on environmental, social, and governance (ESG) metrics."
Finally the third leg of this Great Reset will be implementing one of Schwab's pet projects, the Fourth Industrial Revolution: "The third and final priority of a Great Reset agenda is to harness the innovations of the Fourth Industrial Revolution to support the public good, especially by addressing health and social challenges. During the COVID-19 crisis, companies, universities, and others have joined forces to develop diagnostics, therapeutics, and possible vaccines; establish testing centers; create mechanisms for tracing infections; and deliver telemedicine. Imagine what could be possible if similar concerted efforts were made in every sector." The Fourth Industrial Revolution includes gene-editing biotech, 5G telecommunications, Artificial Intelligence and the like.
UN Agenda 2030 and the Great Reset
If we compare the details of the 2015 UN Agenda 2030 with the WEF Great Reset we find both dovetail very neatly. The theme of Agenda 2030 is a "sustainable world" which is defined as one with income equality, gender equality, vaccines for all under the WHO and the Coalition for Epidemic Preparedness Innovations (CEPI) which was launched in 2017 by the WEF along with the Bill & Melinda Gates Foundation.
In 2015 the UN issued a document, "Transforming our world: the 2030 Agenda for Sustainable Development." The Obama Administration never submitted it to the Senate for ratification knowing it would fail. Yet it is being advanced globally. It includes 17 Sustainable Development Goals, extending an earlier Agenda 21. The 17 include "to end poverty and hunger, in all their forms and dimensions… to protect the planet from degradation, including through sustainable consumption and production, sustainably managing its natural resources and taking urgent action on climate change…" It calls for sustainable economic growth, sustainable agriculture (GMO), sustainable and modern energy (wind, solar), sustainable cities, sustainable industrialization… The word sustainable is the key word. If we dig deeper it is clear it is code-word for a reorganization of world wealth via means such as punitive carbon taxes that will dramatically reduce air and vehicle travel. The less-developed world will not rise to the developed, rather the other way, the advanced civilizations must go down in their living standards to become "sustainable."
Maurice Strong
To understand the double-speak use of sustainable, we need to go back to Maurice Strong, a billionaire Canadian oilman and close friend of David Rockefeller, the man who played a central role back in the 1970s for the idea that man-made CO2 emissions were making the world unsustainable. Strong created the UN Environment Program, and in 1988, the UN Intergovernmental Panel for Climate Change (IPCC) to exclusively study manmade CO2.
In 1992 Strong stated, "Isn't the only hope for the planet that the industrialized civilizations collapse? Isn't it our responsibility to bring that about?" At the Rio Earth Summit Strong that same year he added, "Current lifestyles and consumption patterns of the affluent middle class – involving high meat intake, use of fossil fuels, appliances, air-conditioning, and suburban housing – are not sustainable."
The decision to demonize CO2, one of the most essential compounds to sustain all life, human and plant, is not random. As Prof. Richard Lindzen an MIT atmospheric physicist puts it, "CO2 for different people has different attractions. After all, what is it? – it's not a pollutant, it's a product of every living creature's breathing, it's the product of all plant respiration, it is essential for plant life and photosynthesis, it's a product of all industrial burning, it's a product of driving – I mean, if you ever wanted a leverage point to control everything from exhalation to driving, this would be a dream. So it has a kind of fundamental attractiveness to bureaucratic mentality."
Lest we forget, the curiously well-timed New York pandemic exercise, Event 201 on October 18, 2019 was co-sponsored by the World Economic Forum and the Gates Foundation. It was based on the idea that, "it is only a matter of time before one of these epidemics becomes global—a pandemic with potentially catastrophic consequences. A severe pandemic, which becomes "Event 201," would require reliable cooperation among several industries, national governments, and key international institutions." The Event 201 Scenario posited, "outbreak of a novel zoonotic coronavirus transmitted from bats to pigs to people that eventually becomes efficiently transmissible from person to person, leading to a severe pandemic. The pathogen and the disease it causes are modeled largely on SARS, but it is more transmissible in the community setting by people with mild symptoms."
The declaration by the World Economic Forum to make a Great Reset is to all indications a thinly-veiled attempt to advance the Agenda 2030 "sustainable" dystopian model, a global "Green New Deal" in the wake of the Covid-19 pandemic measures. Their close ties with Gates Foundation projects, with the WHO, and with the UN suggest we may soon face a far more sinister world after the Covid19 pandemic fades.
F. William Engdahl is strategic risk consultant and lecturer, he holds a degree in politics from Princeton University.
Replacing fossil fuels with "renewable" energy would devastate the only planet we've got
Environmentalists and Green New Deal proponents like to say we must take care of the Earth, because "There is no Planet B." Above all, they insist, we must eliminate fossil fuels, which they say are causing climate change worse than the all-natural ice ages, Medieval Warm Period or anything else in history.
Their Plan A is simple: No fossil fuels. Keep them in the ground. More than a few Democrat presidential aspirants have said they would begin implementing that diktat their very first day in the White House.
Their Plan B is more complex: Replace fossil fuels with wind, solar, biofuel and battery power – their supposedly renewable, sustainable alternatives to oil, gas and coal. Apparently by waving a magic wand.
We don't have a Planet B. And they don't really have a Plan B. They just assume and expect that this monumental transformation will simply happen. Wind, solar, battery and biofuel technologies represent the natural evolution toward previously unimaginable energy sources – and they will become more efficient over time. Trust us, they say.
Ask them for details, and their responses range from evasive to delusional, disingenuous – and outrage that you would dare ask. The truth is, they don't have a clue. They've never really thought about it. It's never occurred to them that these technologies require raw materials that have to be dug out of the ground, which means mining, which they vigorously oppose (except by dictators in faraway countries).
They're lawyers, lawmakers, enforcers. But most have never been in a mine, oilfield or factory, probably not even on a farm. They think dinner comes from a grocery store, electricity from a wall socket, and they can just pass laws requiring that the new energy materialize as needed. And it will happen Presto!
It's similar to the way they handle climate change. Their models, reports and headlines bear little or no resemblance to the real world outside our windows – on temperatures, hurricanes, tornadoes, sea levels, crops or polar bears. But the crisis is real, the science is settled, and anyone who disagrees is a denier.
So for the moment, Let's not challenge their climate or fossil fuel ideologies. Let's just ask: How exactly are you going to make this happen? How will you ensure that your Plan A won't destroy our economy, jobs and living standards? And your Plan B won't devastate the only planet we've got? I'll say it again:
(1) Abundant, reliable, affordable, mostly fossil fuel energy is the lifeblood of our modern, prosperous, functioning, safe, healthy, fully employed America. Upend that, and you upend people's lives, destroy their jobs, send their living standards on a downward spiral.
(2) Wind and sunshine may be renewable, sustainable and eco-friendly. But the lands, habitats, wildlife, wind turbines, solar panels, batteries, transmission lines, raw materials, mines and laborers required or impacted to harness this intermittent, weather-dependent energy to benefit humanity absolutely are not.
(3) The supposed cure they say we must adopt is far worse than the climate disease they claim we have.
Using wind power to replace the 3.9 billion megawatt-hours that Americans consumed in 2018, coal and gas-fired backup power plants, natural gas for home heating, coal and gas for factories, and gasoline for vehicles – while generating enough extra electricity every windy day to charge batteries for just seven straight windless days – would require some 14 million 1.8-MW wind turbines.
Those turbines would sprawl across three-fourths of the Lower 48 US states – and require 15 billion tons of steel, concrete and other raw materials. They would wipe out eagles, hawks, bats and other species.
Go offshore instead, and we'd need a couple million truly monstrous 10-MW turbines, standing in water 20-100 feet deep or on huge platforms in deeper water, up and down our Atlantic and Pacific coasts. Not as many of the beasts, but each one a lot bigger – requiring vastly more materials per turbine.
A Category 4 hurricane going up the Atlantic seaboard would wipe out a lot of them – leaving much of the country without power for months or years, until wrecks got removed and new turbines installed.
Using solar to generate just the 3.9 billion MWh would require completely blanketing an area the size of New Jersey with sunbeam-tracking Nellis Air Force Base panels – if the Sun were shining at high-noon summertime Arizona intensity 24/7/365. (That doesn't include the extra power demands listed for wind.)
Solar uses toxic chemicals during manufacturing and in the panels: lead, cadmium telluride, copper indium selenide, cadmium gallium (di)selenide and many others. They could leach out into soils and waters during thunderstorms, hail storms, tornadoes, hurricanes, and when panels are dismantled and hauled off to landfills or recycling centers. Recycling panels and wind turbines presents major challenges.
Using batteries to back up sufficient power to supply U.S. electricity needs for just seven straight windless days would require more than 1 billion half-ton Tesla-style batteries. That means still more raw materials, hazardous chemicals and toxic metals.
Bringing electricity from those facilities, and connecting a nationwide GND grid, would require thousands of miles of new transmission lines – onshore and underwater – and even more raw materials.
Providing those materials would result in the biggest expansion in mining the United States and world have ever seen: removing hundreds of billions of tons of overburden, and processing tens of billions of tons of ore – mostly using fossil fuels. Where we get those materials is also a major problem.
If we continue to ban mining under modern laws and regulations here in America, those materials will continue to be extracted in places like Inner Mongolia and the Democratic Republic of Congo, largely under Chinese control – under labor, wage, health, safety, environmental and reclamation standards that no Western nation tolerates today. There'll be serious pollution, toxics, habitat losses and dead wildlife.
Even worse, just to mine cobalt for today's cell phone, computer, Tesla and other battery requirements, over 40,000 Congolese children and their parents work at slave wages, risk cave-ins, and get covered constantly in toxic and radioactive mud , dust, water and air. Many die. The mine sites in Congo and Mongolia have become vast toxic wastelands. The ore processing facilities are just as horrific.
Meeting GND demands would multiply these horrors many times over. Will Green New Dealers require that all these metals and minerals be responsibly and sustainably sourced, at fair wages, with no child labor – as they do for T-shirts and coffee? Will they now permit exploration and mining in the USA?
Meeting basic ecological and human rights standards would send GND energy prices soaring. It would multiply cell phone, laptop, Tesla and GND costs five times over. But how long can Green New Dealers remain clueless and indifferent about these abuses?
Up to now, this has all been out of sight, out of mind, in someone else's backyard, in some squalid far-off country, with other people and their kids doing the dirty, dangerous work of providing essential raw materials. That lets AOC, Senator Warren, Al Gore, Michael Mann, Greenpeace and other "climate crisis-renewable energy" profiteers preen about climate justice, sustainability and saving Planet Earth.
They refuse to discuss the bogus hockey stick temperature graph; the ways Mann & Co. manipulated and hid data, and deleted incriminating emails; their inability to separate human influences from the powerful natural forces that have caused climate changes throughout history; or the absurd notion that the 0.01% of Earth's atmosphere that is carbon dioxide from fossil fuel use over the past 50 years is somehow responsible for every extreme weather event today. But they won't be able to ignore this fraud forever.
Meanwhile, we sure are going to be discussing the massive resource demands, ecological harm and human rights abuses that the climate alarm industry would impose in the name of protecting the Earth and stabilizing its perpetually unstable climate. We won't let them dodge those issues in 2020.
Paul Driessen is senior policy analyst for the Committee For A Constructive Tomorrow (www.CFACT.org) and author of books and articles on energy, climate, environmental and human rights issues.
Statistics indicate this is an average year for wildfires, so why the above-average hysteria?
Today on Twitter OffG stepped into the current panic-inferno and thick forest of screaming hashtags that is the "Amazon Forest Fire Crisis." The results were thought-provoking.
The mainstream media message is very simple. There are "record" numbers of forest fires currently in the Amazon basin. It's mostly Bolsonaro's fault. The G7 – soon to be assembling – needs to act. (Business Insider and The Guardian are also both very keen we send money to some rainforest charities)
Now, I'm not a fan of Bolsonaro personally, and that goes for all of us at OffG. I'm equally very supportive of preserving the rain forests and wild spaces of the earth. So, the broad sweep of the message is something I'm inclined to be sympathetic toward.
But something isn't sitting right. This is the mainstream media in full and united chorus, flooding the news space with this one single message. This means there's a fairly major agenda, and it's unlikely to be saving the Amazon for all the little future babies.
So, we thought we'd take a deeper look and tweeted this:
How unusual/unnatural are these fires? What percentage burns naturally every year? Be nice to have data rather than hysteria. https://t.co/BDi95EXCiu

— OffGuardian (@OffGuardian0) August 23, 2019
Three people immediately unfollowed us. A couple of others responded. Here's one:
"Hysteria?" You are being irresponsible and lazy. "Fires in the Amazon have surged 83% so far this year compared with the same period a year earlier, environmentalists blamed the sharp rise on farmers setting the forest alight to clear land for pasture" https://t.co/USit1oOL8p pic.twitter.com/pLPibygyp0

— Representative Press (@RepPress) August 23, 2019
We replied to RP with the following:
Yes, hysteria. What's the annual variation? How do these fires compare with a 10 year average? A 50 year average? Asking for data is NEVER irresponsible. Demonising it as 'lazy' may well be however. Please note we aren't claiming this isn't a problem, just asking for context

— OffGuardian (@OffGuardian0) August 23, 2019
RP's hostility only increased, and they retweeted the same basic claim again, apparently in the belief it was new and revelatory and an answer to our questions:
Are you incapable of doing research and of applying basic logic? You think the sharp rise in farmers setting fires is "made up?" I found this info in seconds: https://t.co/e11v2RH84r pic.twitter.com/o6RP5K83mL

— Representative Press (@RepPress) August 23, 2019
In fairness, we also got some positive response, most notably from the always rational Robin Monotti Graziadei. We recommend taking time to read the whole thread.
During the Medieval Climate Anomaly, the period most similar to recent decades, warm & dry climatic conditions resulted in peak forest burning, but severe fires favored less-flammable deciduous vegetation, such that fire frequency remained stationary:https://t.co/wTkIgCQm5h

— Robin Monotti Graziadei (@robinmonotti) August 23, 2019
Someone else then sent us a link to this article at Science20.com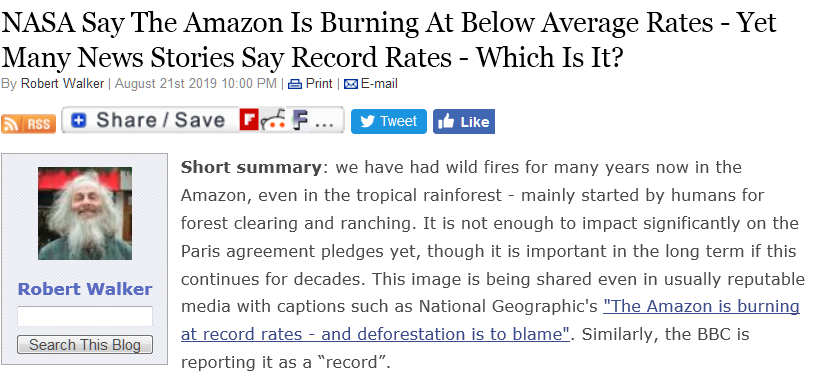 In this article you can find a quote from the Earth Observatory , which up until August 22 read as follows:
As of August 16, 2019, satellite observations indicated that total fire activity in the Amazon basin was slightly below average in comparison to the past 15 years. Though activity has been above average in Amazonas and to a lesser extent in Rondônia, it has been below average in Mato Grosso and Pará, according to the Global Fire Emissions Database"
(SIDEBAR: this text was changed on Aug 22 and now reads, significantly "As of August 16, 2019, an analysis of NASA satellite data indicated that total fire activity across the Amazon basin this year has been close to the average in comparison to the past 15 years.", although the data on which this conclusion is based has not apparently changed. You can check the archived version for proof of the edit.)
On the same site (science20.com) you can also find this graph of "cumulative monthly fire data" for the Amazon basin (the original is at from GlobalFireData.org):
This clearly indicates that the current amount of burning in the Amazon basin in 2019 (the green line) is, as NASA originally said,somewhat below the average, and well below the previous extremes for the region.
This will be why, when you look close, the media articles are artfully talking about the number of fires, rather than the area of burning. There may well be more fires (or maybe that's just been made up like so much else), but that's a statistic without meaning if the total area covered is actually less than a fifteen-year average.
Now, we're not about to take NASA as a final authority on this any more than any other single source. But given the amount of emphasis being put by the screaming media on how "unprecedented" the current burning is, and how deceptive this might turn out to be, it seemed important to us that this data was at least discussed. So we tweeted a ref to it.
Given the fact NASA has said the current total burning in the Amazon basin is slightly BELOW a 15 year average, we need to ask what the current media hysteria is aimed at achieving. https://t.co/BDi95EG1qW

— OffGuardian (@OffGuardian0) August 23, 2019
This was one response:
you can breath stats if you wish, I prefer oxygen!
Most stats are manipulated or self serving anyway!https://t.co/ZtH5IEXi2x

— 💧truth-seeker (@very_grem) August 23, 2019
Here is another. Visit our timeline for more.
NASA = America = Trump = The far-right.

— Roy Underwood (@TannersCross) August 23, 2019
It turns out the messy truth behind the blaring headlines is – yes, the Amazon is burning but not as much as in many recent times, and while Bolsonaro is not a nice man accusing him of burning the world down is probably a bit premature.
To be fair a few people shared or retweeted this information. But they were very few. Most simply ignored it, intent, like Greenwald and Media Lens, Naomi Klein et al in joining chorus with the shrieking mainstream doom-sirens.
Bolsonaro is simultaneously denying the severity of the Amazon crisis and, worse, recklessly claiming environmental groups started them, because he knows the world recognizes he's to blame. He can't escape that responsibility, as @davidmirandario said today in Congress [English]: pic.twitter.com/CAiWKsUCEp

— Glenn Greenwald (@ggreenwald) August 23, 2019
'The French and German leaders say the record number of fires in Brazil's Amazon rainforest is an international crisis which must be discussed at this weekend's G7 summit.'https://t.co/aiwzg8lJST

— Media Lens (@medialens) August 23, 2019
The world is on fire and in country after country the arsonists are ascending to the highest office. This is utter madness. We need a global #GreenNewDeal. We all need to ask ourselves: who do we trust to lead that and how will we help them? https://t.co/6gYXI1cwUG

— Naomi Klein (@NaomiAKlein) August 22, 2019
Make a note of that #GreenNewDeal hashtag. We'll be seeing a lot of that in the next week or so.
Before the inevitable "oh so you don't care if all the possums DIE" type comments BTL, let's make it ultra-clear, this isn't about disparaging environmentalism or claiming it's fine for the Amazon to burn (though actually it is, up to a point, and is an important part of the forest's life cycle).
It's about the fact so many of us – even many who think of themselves as sophisticated analysts – are still as much in the grip of authoritarian story-telling as our ancestors were when they heard tales of heaven and hell and believed them.
Thank goodness for a few lone voices of sanity, like Robin again:
Media are ignoring data in order to sell the Green New Deal scam https://t.co/KJX767XS2C

— Robin Monotti Graziadei (@robinmonotti) August 23, 2019
Hmmm… is that Green New Deal the reason why this apparently fairly average year of burning has been morphed by the power of lies into the latest doomsday meme? Why exactly would so many corporate news outlets be so keen to sell us that?
Oh who cares, right? It's hard. Memes are easy. Did you know that the Amazon produces 20% of our Oxygen? No, because it doesn't. But that's not stopping everyone repeating it.
A few cyberwarfare-generated hashtags, a few (sometimes misattributed) images and there is a mass belief-system unfolding before our eyes. Uncritical, rabid, rancid with fear, demanding solutions.
Just in time for the G7 summit – where I'm sure a Green New Deal "solution" will emerge right on cue, to universal cheers and a few more hashtags handed down to the proles to be spread about in the name of "standing up to the 1%".
We have to do better, guys, or it's over. We're done.
Catte Black, OffG co-founding editor. Writer. Opinionated polemicist.
An error has occurred; the feed is probably down. Try again later.

More Links

Contact:

atheonews (at) gmail.com

Disclaimer

This site is provided as a research and reference tool. Although we make every reasonable effort to ensure that the information and data provided at this site are useful, accurate, and current, we cannot guarantee that the information and data provided here will be error-free. By using this site, you assume all responsibility for and risk arising from your use of and reliance upon the contents of this site.

This site and the information available through it do not, and are not intended to constitute legal advice. Should you require legal advice, you should consult your own attorney.

Nothing within this site or linked to by this site constitutes investment advice or medical advice.

Materials accessible from or added to this site by third parties, such as comments posted, are strictly the responsibility of the third party who added such materials or made them accessible and we neither endorse nor undertake to control, monitor, edit or assume responsibility for any such third-party material.

The posting of stories, commentaries, reports, documents and links (embedded or otherwise) on this site does not in any way, shape or form, implied or otherwise, necessarily express or suggest endorsement or support of any of such posted material or parts therein.

The word "alleged" is deemed to occur before the word "fraud." Since the rule of law still applies. To peasants, at least.

Fair Use

This site contains copyrighted material the use of which has not always been specifically authorized by the copyright owner. We are making such material available in our efforts to advance understanding of environmental, political, human rights, economic, democracy, scientific, and social justice issues, etc. We believe this constitutes a 'fair use' of any such copyrighted material as provided for in section 107 of the US Copyright Law. In accordance with Title 17 U.S.C. Section 107, the material on this site is distributed without profit to those who have expressed a prior interest in receiving the included information for research and educational purposes. For more info go to: http://www.law.cornell.edu/uscode/17/107.shtml. If you wish to use copyrighted material from this site for purposes of your own that go beyond 'fair use', you must obtain permission from the copyright owner.

DMCA Contact

This is information for anyone that wishes to challenge our "fair use" of copyrighted material.

If you are a legal copyright holder or a designated agent for such and you believe that content residing on or accessible through our website infringes a copyright and falls outside the boundaries of "Fair Use", please send a notice of infringement by contacting atheonews@gmail.com.

We will respond and take necessary action immediately.

If notice is given of an alleged copyright violation we will act expeditiously to remove or disable access to the material(s) in question.

All 3rd party material posted on this website is copyright the respective owners / authors. Aletho News makes no claim of copyright on such material.