Twitter bans popular account highlighting Nancy Pelosi stock trades, @NancyTracker
Twitter purges another account that scrutinizes powerful figures
Twitter has booted @NancyTracker, a popular account that documented Speaker of the House Nancy Pelosi's stock trades and drew attention to the millions of dollars she and her husband have generated through trading.
The account had over 200,000 followers when it was banned. Some of its most popular tweets highlighted that Pelosi's role as a government official gives her access to "insider information" and noted that Pelosi's returns have significantly outpaced both the market and some of the world's best investors.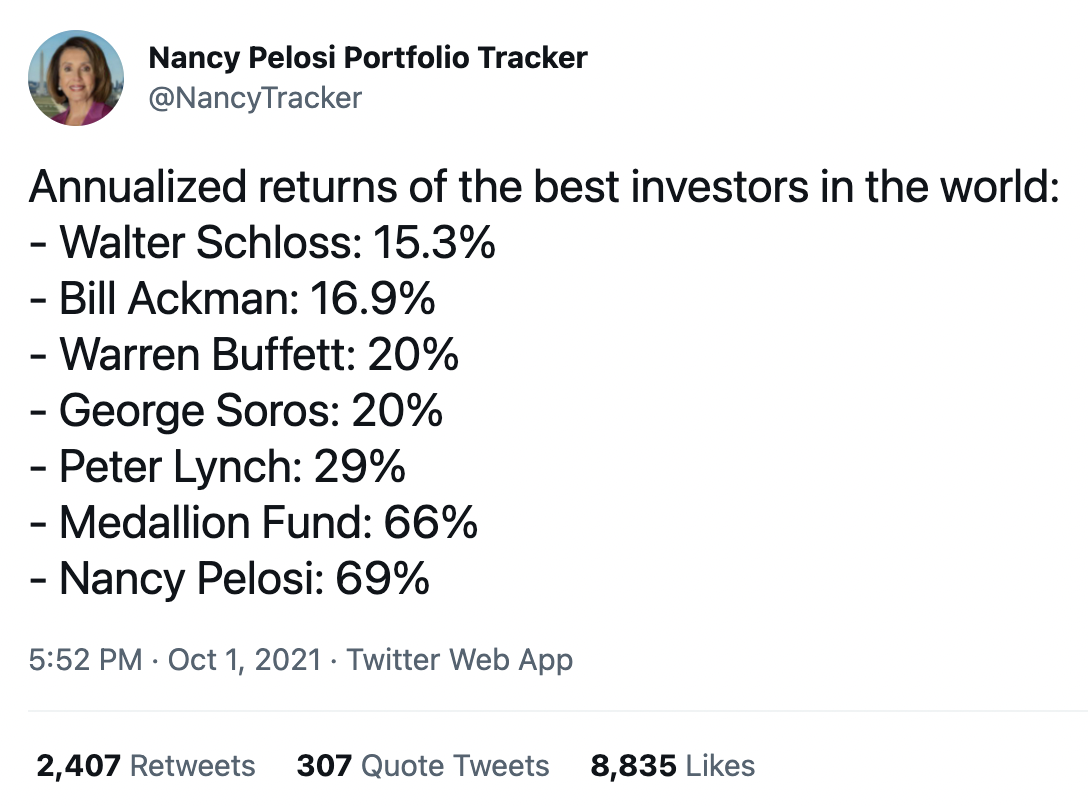 @NancyTracker was created by The Free Press Report which also created the largest Ghislaine Maxwell trial tracker account, @TrackerTrial.
Twitter suspended both accounts earlier today and claimed that The Free Press Foundation had broken its rules against "platform manipulation and spam." It also referenced rules that prohibit artificially amplifying or suppressing information.
However, The Free Press Foundation pushed back against Twitter by saying that all of the @TrackerTrial's engagement was "organic" and that "there was not outside amplification."
In October, less than two months before the accounts were suspended, @NancyTracker said it had received "a cease and desist order from a lawyer representing someone high up in the [Political] office."

"I will not name names. And I will also not cease or desist," @NancyTracker added at the time.
The Free Press Report is urging fans of the @NancyTracker account to follow it on free speech social network Gab and has already built an audience of tens of thousands of followers on the platform.
Filmmaker Daniel Bostic described the censorship of the @NancyTracker account as a "full on authoritarian crackdown just days after Dorsey leaves."
Former Twitter CEO Jack Dorsey stepped down on November 29 and was replaced by Parag Agrawal. Since being appointed CEO, Agrawal has faced scrutiny for his past comments that Twitter's role is "not to be bound by the First Amendment" and that he wished Twitter had censored some content sooner.
Investor and Bitcoin commentator Anthony Pompliano also suggested that the censorship was linked to Agrawal by highlighting that the accounts had been suspended and tweeting: "New Twitter CEO seems to be having a busy week."
The censorship of these popular accounts is the latest in a wave of Twitter censorship that has occurred since Agrawal took the reigns. A link to the American Heart Association website was recently flagged as "unsafe" and numerous accounts have been suspended after Twitter announced new rules that ban the sharing of photos or videos of people without their permission.
1 Comment »
Nancy Pelosi is like a muttering cadaver. How can she have the intelligence to invest? Answer: she whispers in her husband's ear about pending legislation: Presto! Caching!

She herself would recommend investing in chocolate ice cream, as shown when she threw open the doors to her treasure trove in her refrigerator/freezer, estimated to maybe cost @20,000.

In that interview, she's so charming. Speaks pretty coherently. About chocolate ice cream.

But ever watched her deliver a speech or respond to a question? https://www.lifezette.com/2021/11/video-nancy-pelosi-goes-full-biden-as-she-slurs-her-words-and-forgets-recent-speech/

Imagine her and Biden talking about some really important matter, such as whether vanilla ice cream is tastier than chocolate ice cream.

Switch to Kamala Harris, cackling about her preference, puffin' the spliff, 'cause, well, she's Jamaican: "Half my family's from Jamaica — are you kidding me?"

So, one more scenario to imagine: a heart attack and suddenly she's the President of the United States of America. Imagine her being advised by Nancy "The Cadaver" Pelosi.

LikeLike

Comment by michael | December 9, 2021 |
Visits Since December 2009

Looking for something?

Archives

Calendar

Categories

Tags

Recent Comments
More Links

Contact:

atheonews (at) gmail.com

Disclaimer

This site is provided as a research and reference tool. Although we make every reasonable effort to ensure that the information and data provided at this site are useful, accurate, and current, we cannot guarantee that the information and data provided here will be error-free. By using this site, you assume all responsibility for and risk arising from your use of and reliance upon the contents of this site.

This site and the information available through it do not, and are not intended to constitute legal advice. Should you require legal advice, you should consult your own attorney.

Nothing within this site or linked to by this site constitutes investment advice or medical advice.

Materials accessible from or added to this site by third parties, such as comments posted, are strictly the responsibility of the third party who added such materials or made them accessible and we neither endorse nor undertake to control, monitor, edit or assume responsibility for any such third-party material.

The posting of stories, commentaries, reports, documents and links (embedded or otherwise) on this site does not in any way, shape or form, implied or otherwise, necessarily express or suggest endorsement or support of any of such posted material or parts therein.

The word "alleged" is deemed to occur before the word "fraud." Since the rule of law still applies. To peasants, at least.

Fair Use

This site contains copyrighted material the use of which has not always been specifically authorized by the copyright owner. We are making such material available in our efforts to advance understanding of environmental, political, human rights, economic, democracy, scientific, and social justice issues, etc. We believe this constitutes a 'fair use' of any such copyrighted material as provided for in section 107 of the US Copyright Law. In accordance with Title 17 U.S.C. Section 107, the material on this site is distributed without profit to those who have expressed a prior interest in receiving the included information for research and educational purposes. For more info go to: http://www.law.cornell.edu/uscode/17/107.shtml. If you wish to use copyrighted material from this site for purposes of your own that go beyond 'fair use', you must obtain permission from the copyright owner.

DMCA Contact

This is information for anyone that wishes to challenge our "fair use" of copyrighted material.

If you are a legal copyright holder or a designated agent for such and you believe that content residing on or accessible through our website infringes a copyright and falls outside the boundaries of "Fair Use", please send a notice of infringement by contacting atheonews@gmail.com.

We will respond and take necessary action immediately.

If notice is given of an alleged copyright violation we will act expeditiously to remove or disable access to the material(s) in question.

All 3rd party material posted on this website is copyright the respective owners / authors. Aletho News makes no claim of copyright on such material.