Victoria government lied about who had access to Covid contact tracing data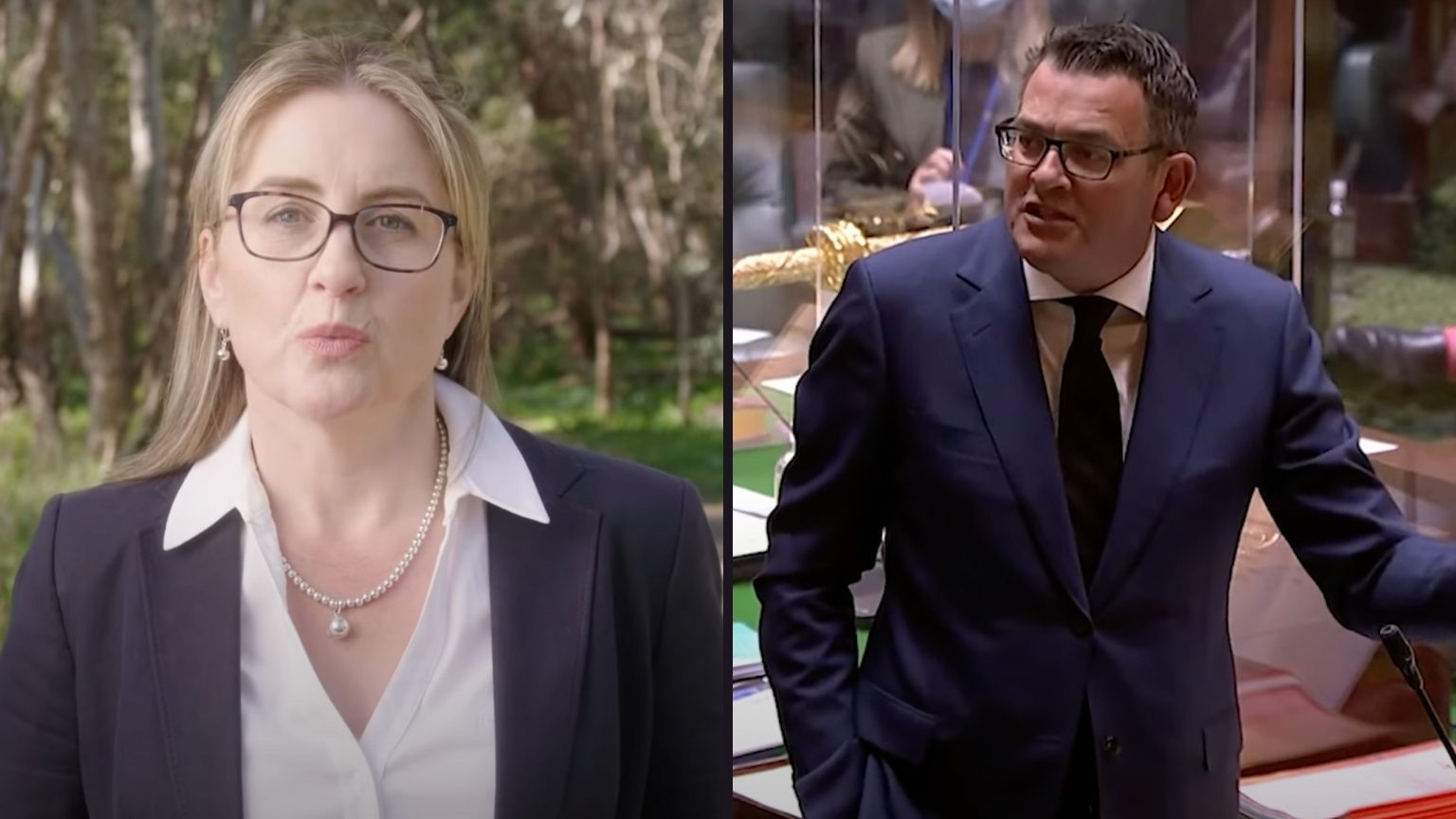 The government of the Australian state of Victoria not only decided to deliberately keep citizens in the dark about court rulings exposing the fact the privacy of their data collected by contact tracing apps can be compromised – but is now doubling down.
And the way the state's Acting Premier Jacinta Allan, who has currently taken over while Premier Dan Andrews is being investigated for "concealing treason and fraud," chose to defend the failure to inform people about matters pertaining to sensitive private information about them was to say the government was – shielding them from misinformation.
Australian media say the attempts to hide the truth have been made repeatedly, and Allan's logic in defending the move is that if revealed, the Supreme Court's secret ruling that said the data was not "absolutely protected" would have given rise to a "baseless scare campaign" as media reporting the facts would have caused "fear and misinformation."
She did not clarify what type of "misinformation and fear" was expected to arise from the truth.
"The decision was taken in the balance of providing confidence in the Victorian community that this wasn't a matter that needed to have that level of misinformation spread about it," Allan said on Tuesday of the way the multiple levels of deceit had been handled.
This Supreme Court finding came to light after the Herald Sun reported that despite explicit promises of information safety, and its use only for health purposes, this was a lie – and one ongoing for two years.
Instead of making contact tracing data available only in order to fight the epidemic, it was also available to law enforcement, and authorities like the WorkCover agency.
It was precisely that agency's demands to be given access to tracing app data that launched the legal case, when the Department of Health asked the court to order WorkCover to stop.
Another revelation is that the state's Covid commander Jeroen Weimar petitioned the court to keep the case secret for five years. He tried to persuade the court that maintaining Victorians' trust in the tracing system was what really matters – at the same time downplaying the importance of the citizens' right to know their data can be shared, despite assurances from Covid tracers that this was not possible.
Asked if it was right to hide from the public the truth about the safety of their data – and the fact a court case was unfolding financed by their tax money, Allan said, "They don't deserve a fear campaign, they don't deserve misinformation," and added that their data "will be protected."
Shadow Attorney-General Matt Bach sees the scandal differently:
"People should be shocked and appalled. We should never become accustomed to this level of dishonesty."
3 Comments »
"Premier Dan Andrews is being investigated for "concealing treason and fraud"

The ruler is a criminal and his replacement is a liar.

LikeLike

Comment by Balthasar Gerards | December 29, 2021 |

Unlawful land grabs, Gazuntite passes
https://alethonews.com/2021/12/13/significant-natural-areas-wellington-city-councils-plan-to-expropriate-and-rewild-home-gardens/

The real agenda should be pretty obvious from reading the article below.
https://thewhiterose.uk/the-fourth-industrial-revolution-and-new-zealands-role/

The push to get everyone vaxxed may have more to do with getting everyone hooked up on a digital control system than it is about health. New Zealand have let the cat out of the bag in this

Doc link below. Just look at the timeline on page 5, it looks well dodgy like it was planned.

Click to access WEF_Reimagining_Regulation_Age_AI_2020.pdf

I am not sure how this fits into other countries but it looks like NZ were picked to be the trial. The passport will then be linked to a digital wallet.
https://www.rbnz.govt.nz/notes-and-coins/future-of-money/cbdc?fbclid=IwAR05m2MpSqaXJSVky1wj-D5xb92T2aWjrhfQIVmU_TttliTYfCQWZSSCakc

Just like Gazuntite Pass, could it ever happen again?


New Zealand seems to be the key driver powered by the WEF.
https://www.weforum.org/press/2021/03/ygl-class-2021/

Given that they are pushing for a Republic of Aorearoa I imagine when the Monarch in charge of the constitutional Monarchy of NZ get wind Dan Andrews won't be the only one pursued for being a traitor.
https://www.dailymail.co.uk/news/article-10306595/Victorian-Premier-Daniel-Andrews-listed-court-concealing-TREASON.html

Further more when the army twig on that they have been sold out with a bioweapon I would not like to be in the Government's shoes! Let hope I am wrong, I would rather be sorry for getting it wrong!

LikeLike

Comment by I M | December 29, 2021 |

This article reveals how the Victorian government, and indeed all state governments, have completely destroyed any trust that the citizens of Australia might have had in them. They are just a mob of liars, cheats, drug pushers and vaccine paedophiles. They no longer serve the people who pay their over-inflated wages, but set themselves up as lords and masters, taking their instructions from foreign companies and agencies. They have become the French aristocracy of the 1790's, and we all know what happened to them!

LikeLike

Comment by Bill Francis | December 29, 2021 |
Visits Since December 2009

Looking for something?

Archives

Calendar

Categories

Tags

Recent Comments
More Links

Contact:

atheonews (at) gmail.com

Disclaimer

This site is provided as a research and reference tool. Although we make every reasonable effort to ensure that the information and data provided at this site are useful, accurate, and current, we cannot guarantee that the information and data provided here will be error-free. By using this site, you assume all responsibility for and risk arising from your use of and reliance upon the contents of this site.

This site and the information available through it do not, and are not intended to constitute legal advice. Should you require legal advice, you should consult your own attorney.

Nothing within this site or linked to by this site constitutes investment advice or medical advice.

Materials accessible from or added to this site by third parties, such as comments posted, are strictly the responsibility of the third party who added such materials or made them accessible and we neither endorse nor undertake to control, monitor, edit or assume responsibility for any such third-party material.

The posting of stories, commentaries, reports, documents and links (embedded or otherwise) on this site does not in any way, shape or form, implied or otherwise, necessarily express or suggest endorsement or support of any of such posted material or parts therein.

The word "alleged" is deemed to occur before the word "fraud." Since the rule of law still applies. To peasants, at least.

Fair Use

This site contains copyrighted material the use of which has not always been specifically authorized by the copyright owner. We are making such material available in our efforts to advance understanding of environmental, political, human rights, economic, democracy, scientific, and social justice issues, etc. We believe this constitutes a 'fair use' of any such copyrighted material as provided for in section 107 of the US Copyright Law. In accordance with Title 17 U.S.C. Section 107, the material on this site is distributed without profit to those who have expressed a prior interest in receiving the included information for research and educational purposes. For more info go to: http://www.law.cornell.edu/uscode/17/107.shtml. If you wish to use copyrighted material from this site for purposes of your own that go beyond 'fair use', you must obtain permission from the copyright owner.

DMCA Contact

This is information for anyone that wishes to challenge our "fair use" of copyrighted material.

If you are a legal copyright holder or a designated agent for such and you believe that content residing on or accessible through our website infringes a copyright and falls outside the boundaries of "Fair Use", please send a notice of infringement by contacting atheonews@gmail.com.

We will respond and take necessary action immediately.

If notice is given of an alleged copyright violation we will act expeditiously to remove or disable access to the material(s) in question.

All 3rd party material posted on this website is copyright the respective owners / authors. Aletho News makes no claim of copyright on such material.