UK surgeon remains suspended a year after saying governments are using Covid to control people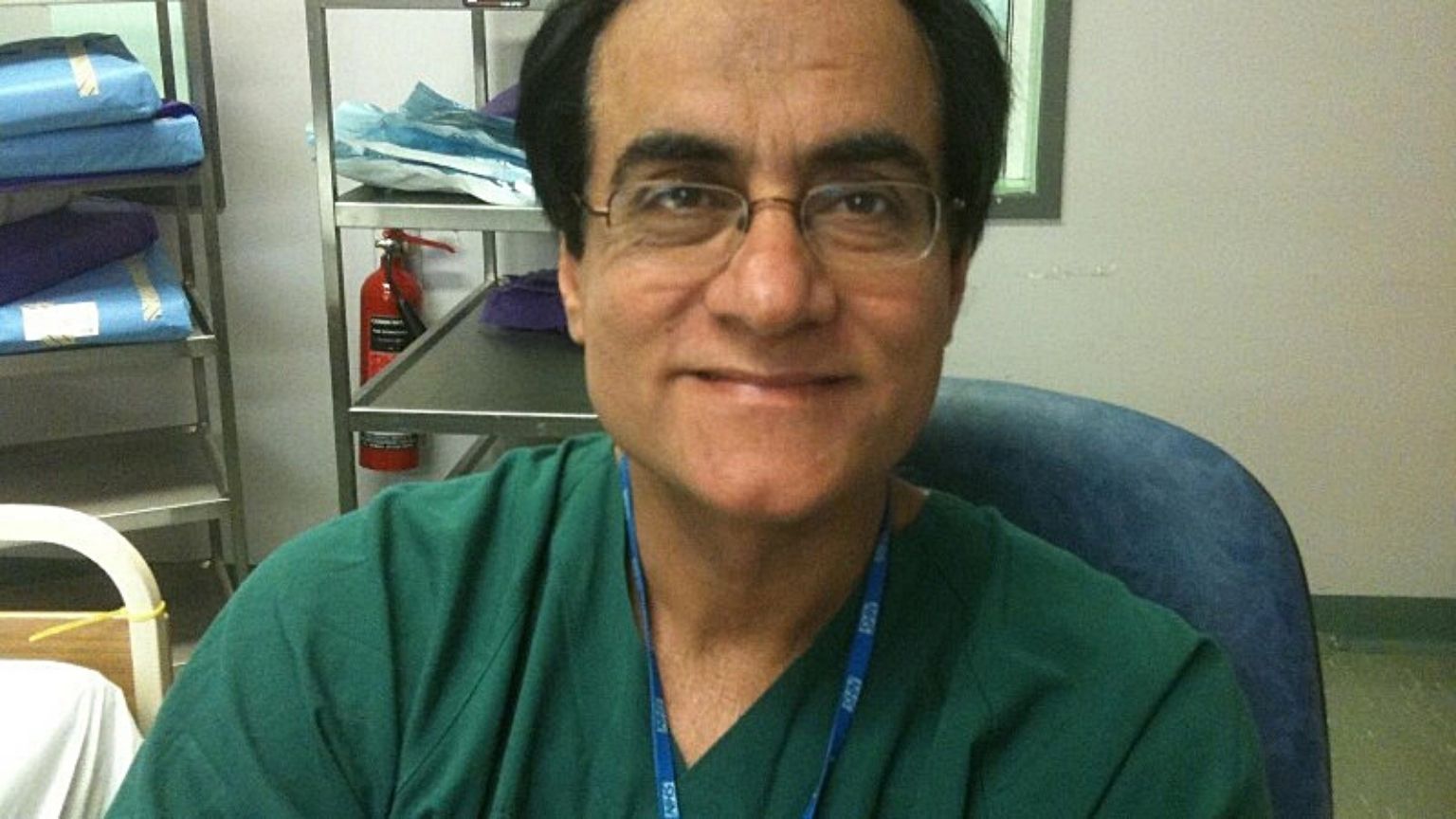 Last year, the UK medical register suspended a consultant surgeon for 12 months pending an investigation by the General Medical Council (GMC) for posting on social media that Covid-19 was being used by elites to control the world.
Colleagues wrote to the organization arguing he should not have been suspended for his personal opinion.
Mohammad Iqbal Adil, a Pakistan-born British doctor, has worked in the NHS for almost three decades. An interim orders tribunal suspended him for a year because of videos he posted on social media.
The doctor expressed "his point of view on the Covid-19 pandemic and the far-reaching effects of the lockdown on the economy, public health and wellbeing," his campaign page states.
A spokesperson for the GMC at the time said: "The interim orders tribunal imposed an interim suspension on Dr Adil's registration, following our referral, to protect patients and public confidence. This interim suspension remains in place while we consider concerns about Dr Adil's fitness to practice."
Some of his colleagues launched a petition on Change.org calling on the GMC to reinstate Dr. Adil. The petition argues that the GMC should have given him a chance to reflect on the videos "when the entire world is confused about the novel virus."
The petition also noted that he had a family to support, adding, "UK needs doctors to work. It would not be in the best interest of the public and health system to lose [an] experienced and highly qualified surgeon like him.
"We, the doctors community within [the] UK and across the world, feel that it's injustice to suspend Mr Adil on his personal point of view on the covid-19 without giving him [a] chance to reflect upon his video before enforcing suspension.
"We request to the GMC to revoke his unfair 12 months suspension . . . and allow him fair chance to work in this country [for the benefit of] the health system, communities, and medical graduates."
"Dr Adil has been making a stand for freedom of speech for all doctors and nurses to speak their truth without fear of recrimination or persecution," his campaign page states.
1 Comment »
Dr. Adil's suspension by the GMC is just another example of the intellectual poverty of those who seek to maintain the Covid narrative.They are unable to cogently and coherently justify their position, but prefer to use punitive measures to exert their authority – if indeed they have any! It is obvious they are just the puppets of their medical and political masters.

LikeLike

Comment by Bill Francis | December 5, 2021 |
An error has occurred; the feed is probably down. Try again later.

More Links

Contact:

atheonews (at) gmail.com

Disclaimer

This site is provided as a research and reference tool. Although we make every reasonable effort to ensure that the information and data provided at this site are useful, accurate, and current, we cannot guarantee that the information and data provided here will be error-free. By using this site, you assume all responsibility for and risk arising from your use of and reliance upon the contents of this site.

This site and the information available through it do not, and are not intended to constitute legal advice. Should you require legal advice, you should consult your own attorney.

Nothing within this site or linked to by this site constitutes investment advice or medical advice.

Materials accessible from or added to this site by third parties, such as comments posted, are strictly the responsibility of the third party who added such materials or made them accessible and we neither endorse nor undertake to control, monitor, edit or assume responsibility for any such third-party material.

The posting of stories, commentaries, reports, documents and links (embedded or otherwise) on this site does not in any way, shape or form, implied or otherwise, necessarily express or suggest endorsement or support of any of such posted material or parts therein.

The word "alleged" is deemed to occur before the word "fraud." Since the rule of law still applies. To peasants, at least.

Fair Use

This site contains copyrighted material the use of which has not always been specifically authorized by the copyright owner. We are making such material available in our efforts to advance understanding of environmental, political, human rights, economic, democracy, scientific, and social justice issues, etc. We believe this constitutes a 'fair use' of any such copyrighted material as provided for in section 107 of the US Copyright Law. In accordance with Title 17 U.S.C. Section 107, the material on this site is distributed without profit to those who have expressed a prior interest in receiving the included information for research and educational purposes. For more info go to: http://www.law.cornell.edu/uscode/17/107.shtml. If you wish to use copyrighted material from this site for purposes of your own that go beyond 'fair use', you must obtain permission from the copyright owner.

DMCA Contact

This is information for anyone that wishes to challenge our "fair use" of copyrighted material.

If you are a legal copyright holder or a designated agent for such and you believe that content residing on or accessible through our website infringes a copyright and falls outside the boundaries of "Fair Use", please send a notice of infringement by contacting atheonews@gmail.com.

We will respond and take necessary action immediately.

If notice is given of an alleged copyright violation we will act expeditiously to remove or disable access to the material(s) in question.

All 3rd party material posted on this website is copyright the respective owners / authors. Aletho News makes no claim of copyright on such material.